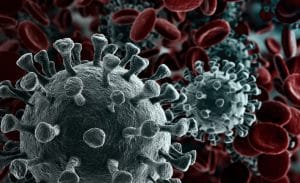 On March 11th, the World Health Organization officially declared the outbreak of COVID-19, typically referred to as Coronavirus, as a pandemic. The disease is currently present in 114 countries, and is appearing in large swaths of the country, including the DFW area. In today's blog, the Viva Dental Family Dentistry team would like to talk about what we're doing to protect our Dallas and Richardson, TX, patients, and offer some general advice about preparing for self-quarantine and keeping your family safe!
Increasing Preventive and Safety Measures
You may feel nervous about visiting the dentist, but if you have an appointment know that we're increasing our daily cleaning and disinfecting on all surfaces people frequently touch, such as door handles and counter tops, the waiting room and game stations, and all bathroom surfaces. We have hand sanitizers for guests and staff to use, and our team members will be washing their hands thoroughly every hour. If any member of our team feels ill, they will be staying home. Taking these simple precautions has been shown to limit the chances of the illness spreading.
Should I Reschedule?
Our team can still see you to offer treatment, but consider rescheduling if you begin to exhibit common symptoms of Coronavirus, such as a fever, cough, or shortness of breath. If you have contact with someone confirmed to have COVID-19 in the last two weeks, let us know and reschedule. The illness has an incubation period of up to two weeks. In addition, consider staying home if you've recently visited impacted areas or traveled on a cruise ship in the last two weeks.
What Should You Do?
There are a lot of conflicting ideas out there about what to do to keep you and your family safe. But time and time again experts have shown that the best way to slow transmission is with proper hand washing. You should frequently wash your hands with warm water and soap, covering every surface of your hands in soap, even the backs and finger tips. To ensure you're doing so for the appropriate time, sing "Happy Birthday" or any chorus from a favorite song twice, this usually helps people reach the recommended 20-second washing time. This link discusses proper hand washing at length. Masks don't really keep you from picking up the disease, but if you're already sick then you could wear them to protect other people in your home.
Preparing for a Long Stay at Home
Coronavirus spreads through droplets in the air, usually released through people sneezing or coughing. You may be likely to catch the disease by being within six feet of someone with COVID-19. The virus also lives on surfaces for several hours. So, to limit your risk of exposure, try to avoid large gatherings or events being attended by lots of people. Avoid the movies, concerts, and even shopping trips. By avoiding contact, you avoid the virus. Bring hand sanitizer with you (Make sure it's at least 60% alcohol) to use after touching door handles and other commonly used surfaces.
You also need to purchase supplies to help make your stay at home possible. Right now schools across DFW are closing, people are working from home or simply being sent home for one to two weeks to help slow the spread of Coronavirus. Be sure to think about what you need to be at home for a prolonged period. Pick up foods that last, like rice, beans, or pastas. Also grab fun treats, especially if you have kids that could become easily bored. And of course, don't forget to make sure you have plenty of toothbrushes, floss, and toothpastes! If you need toilet paper, by all means get some, but don't panic buy in bulk, you keep others from getting supplies they too need!
What If I Think I Have It?
As we touched on above, symptoms could take two weeks to appear, and typically include high fever, shortness of breath, and coughing. A runny nose is usually not a symptom. Many of these symptoms are similar to the flu, so if you feel sick stay home just in case. Don't go to the hospital or emergency room unless you face a life-threatening situation, instead contact your doctor on the phone. Right now, testing is more or less unavailable to most of the country, but resting, drinking plenty of fluids, and keeping your doctor updated on your condition is advised.
If you're risk, then be sure to clean and disinfect surfaces you touch, just as we're doing at our office. Wash your hands frequently, and try to avoid direct contact with other family members until symptoms pass.
Resources
Trying to find news on the virus can be overwhelming. Some people are downplaying the pandemic, others are in a blind panic. To stay calm, but informed, be sure you follow trusted sources. Below, we have links to the Centers for Disease Control (CDC), World Health Organization (WHO), and the Texas Department of State Health, all of which are updating frequently on the spread of COVID-19.
Texas Department of State Health Services
If you have any questions or concerns, feel free to contact our team. We want to make sure you and your family's smiles are taken care of, and that you also stay safe throughout this serious public health emergency!
Contact Our Team with Any Questions Or Concerns
If you would like to learn more about how we're cleaning and disinfecting, or about precautions you could take at home to protect yourself from COVID-19 or to manage your oral health concerns if you need to reschedule, then please talk to our team. We're here to address your questions and concerns, and help you and your families enjoy optimal oral health and beautiful smiles. For more information on what we're doing to keep our patients safe, or for questions about your oral health, then schedule a consultation by calling the Viva Dental Family Dentistry office nearest you at (214) 337-7800 (Dallas) or (972) 437-6000 (Richardson). We're proud to serve residents of Dallas, Richardson, and surrounding communities!