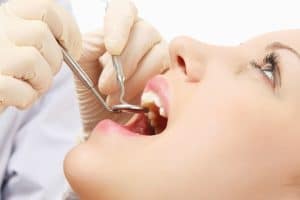 Our entire team is so excited that we're finally able to open our doors and see our patients for more than just emergency dental work. Dr. Truong and our team is offering general, preventive, and elective cosmetic care among other treatments for our Dallas and Richardson, TX, patients. To help ensure everyone stays safe while visiting our office, we've implementing the advanced HOCL disinfectant fogger system!
The HOCL Disinfectant Fogger
When disinfecting and cleaning offices, we want to take the health and comfort of our patients into account. For this reason, our team is proud to announce we're implementing a 100% safe alternative to bleach to disinfect the building with the HOCL disinfectant fogger. For over 150 years, Hypochlorous Acid has been used in the food and hotel industry, and on cruise ships and in schools to help kill harmful fungi, bacteria, and viruses. This unique oxidant that is produced naturally by our own body's white blood cells to destroy germs and protect the body. The active ingredient used in this the fogger is a scientific formula created from HOCL, and is a weak acid much like citrus juice. The disinfectant fogger uses electricity to activate a special saltwater solution that has been in use for over 40 years, creating a fog to disinfect surfaces and making this a go-to option in the food, healthcare, water treatment, and sanitation industries. We're very excited to be employing such an advanced option for protecting the health of our patients and team members!
Our Other Health and Safety Precautions
The disinfectant fog reaches multiple surfaces in a room, providing a much more thorough approach than other sanitizing systems. However, this new technology is not the only protocol we're implementing to keep you safe! First, we will ask you a few screening questions prior to your arrival. When you get here, you'll call us from the parking lot. You stay in the vehicle until we call you inside, which helps ensure social distancing by keeping people from sharing the waiting room.
When you step inside, we will take you and your family's temperatures and go over our screening questions once more. We will require all patients and their guardians/parents to wear a mask, and our team will provide hand sanitizer when you enter the office. One parent or guardian is permitted to follow a child in for an appointment, and of course, our team will be wearing PPE, including gloves and masks. A hydrogen peroxide pre-rinse will be administered prior to treatment, and we will be providing fewer options for scheduling times to ensure proper social distancing. Add this to our increased health and safety measures, and you have an environment in which you and your family can feel confident and safe!
Scheduling Your Next Visits
Now that we're open again for care outside of emergency treatment, this is a great time to schedule a checkup and cleaning for your family! Our time in quarantine has been quite stressful for people, and we've found that in times of stress people tend to eat a little more sugary foods than normal, and may also become lax with their oral care. A checkup enables our team to examine your and your family's smiles to look for warning signs of trouble, treating these issues before they grow more severe and cause discomfort or oral health complications. We also clean the teeth, which involves using an ultrasonic scaler and a manual tool to gently remove all plaque and tartar (calcified plaque) from the surfaces of the teeth. A cleaning helps prevent the erosion of tooth enamel and the inflammation of gum tissue, lowering the risk of tooth decay and periodontal disease. The procedure is also linked to better breath and even brighter teeth! The start of summer vacation is a great time to plan these appointments, as parents no longer need to help their kids with school work and families enjoy a little respite from navigating the world of homeschooling. Remember, we'll be taking a number of precautions to keep you and your family safe! So, schedule an appointment soon, we can't wait to see you!
Keeping Your Smile Healthy From Home
You should also continue to take measures to protect oral health from home! These steps help limit plaque and tartar buildup between office visits, and also limit the risks of serious issues like tooth decay and gum disease. People of all ages need to brush their teeth when they wake up and again before bed. We suggest using a toothpaste that contains fluoride, and watch out for whitening toothpastes, which could inadvertently damage enamel if you brush too hard! People of all ages also need to floss before bed too, as brushing alone cannot remove the food particles caught between the teeth or along the gum line. Try to cut back on sugary foods and drinks while at home too, no need to feed the harmful bacteria responsible for plaque buildup and poor oral health! If you have any questions about keeping your smile healthy while at home, or if you're ready to set up an appointment with our team for a checkup and cleaning, then contact our practice today. We would also like to remind you that being open for elective treatments again means we're also here with cosmetic procedures to brighten teeth and address other esthetic issues, just in time for summer!
Schedule Your Next Appointment Today!
We're committed to the safety of our patients and ensuring that everyone who visits us leaves with a healthy smile, and nothing else! With that in mind, we're implementing a wide-range of technologies and other safety precautions. We want you to enjoy peace of mind when you see us, and we're eager to see familiar faces again and also meet new people in our community too. For more information on health and safety protocols, then schedule a consultation by calling the Viva Dental Family Dentistry office nearest you at (214) 337-7800 (Dallas) or (972) 437-6000 (Richardson). We're so proud to finally be able to open our doors, and to do so in a manner that keeps everyone safe and healthy!