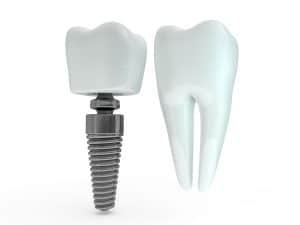 A number of factors could mean the loss of our natural teeth, from untreated cavities or infection, to advanced gum disease or even an injury. Without replacement, the gap in your smile could mean development of major oral health complications. However, to improve the health and function of your smile, and create a long-lasting prosthetic that lasts for decades to come, your Dallas and Richardson, TX, dentist may suggest implant dentistry.
What Happens When We Lose Teeth?
Losing even one tooth could lead to a cascading effect, one that continues to harm the overall health, function, and beauty of your smile. For example, with a gap in the smile, this could cause teeth to begin drifting from position with time. Soon, misalignment develops, which not only alters the beauty of your smile, but increases the risk of complications like cavities, infection, gingivitis, or gum disease. In addition, others experience difficulties due to tooth loss impacting the jaw joints and bite balance, which often leads to painful disorders like TMD or even bruxism, also known as chronic teeth grinding.
You could have trouble eating and be forced to rely on soft foods items, or even have trouble speaking clearly. Not to mention the impact on your confidence as you may feel uncomfortable showing off your smile. But the most dangerous impact of tooth loss, and one that dental implants are uniquely qualified to address, is loss of jawbone mass and density.
When we lose teeth, the body stops sending calcium and phosphorus to the bone tissue around the missing roots. Without these nutrients, the bone tissue begins to break down, losing mass and density and leading to further tooth loss. In extreme cases, this also alters facial structure to cause an older appearance!
The Benefits of Biocompatible Titanium Post
Bridges rely on crowns to stay in place, and dentures need suction, adhesives, or metal clasps. Which means as the jaw loses mass and density, they need to be replaced, usually, every 5 to 10 years on average. However, the dental implant post is made from titanium, a biocompatible material. The body will recognize the posts as a natural root. As a result, the body begins to send doses of key nutrients to the jawbone again, stimulating bone tissue growth and preventing further negative changes to your smile. For this reason, the placement preserves your smile and also has a chance to last for decades to come, or even a lifetime in some cases!
Planning Your Placement
Obviously, some planning needs to go into the placement process. We want to ensure these new roots stimulate bone tissue, and also support your new smile too. First, we want to address any underlying oral health issues. For example, periodontitis, or advanced gum disease, could lead to tooth loss but also cause implant failure. Once we manage your oral health issues, we will use digital technology to take detailed images and x-rays. We plan placement to avoid nerves and sensitive tissues. We then guide the placement of one or more dental implants into the jawbone. From there, the posts will need to bond with the bone tissue through a process of osseointegration, which helps support your new smile and ensures long-lasting replacement.
Restoring Your New Tooth
For an individual tooth replacement, we attach a restoration in the form of dental crown to provide the visible portion of your new tooth. We add an abutment and then attach the crown. We take steps to design and craft one that blends with the color of your teeth, and also ensures a comfortable fit and proper bite balance. We want you to be able to smile with confidence, and to also resume eating your favorite foods again!
Bridges and Dentures
The implant process isn't just limited to addressing individual missing teeth. We can also provide prosthetics that last for decades to come. With a bridge, we don't need crowns attached to natural teeth, and the post will stimulate the jawbone tissues to ensure your bridge lasts much longer than just ten years. We could support one with just one to two dental implants in some cases. For dentures, we insert multiple posts in either arch to support a full or partial. A partial addresses major gaps too severe for a bridge, but not serious enough to require a full. A full offers complete tooth replacement for one or both arches. These options will be fixed in place, never slipping when you eat or speak, and never requiring removal for soaking or cleaning. Again, we take steps to design a prosthetic that looks natural, absorbs daily bite forces, and enables you to return to your habits and meal selections that you enjoyed before tooth loss. With routine visits for checkups and cleanings, we will keep a close eye on your smile and your new teeth to avoid complications and oral health issues that could return health, function, and stability.
If you have any questions about avoiding missing teeth, or if you have already lost one or more teeth, then don't hesitate to contact our team today. We're ready to perform an exam and consultation to see which options are right for you, so you can enjoy a complete smile again in 2021, and better overall oral health. Let us know now, and we can also help you navigate the world of dental insurance, or discuss potential payment options. We also have strict health and safety measures in light of COVID-19, as well as advanced technologies, to ensure the safety of our team members and our patients as well.
Your Dallas, TX, Dentist Addresses Missing Teeth
Our team is ready to help you obtain a full smile again, even if you have lost most of your natural teeth! For more information creating and placing natural-looking and durable dental implant, then please schedule a consultation by calling the Viva Dental Family Dentistry office nearest you at (214) 337-7800 (Dallas) or (972) 437-6000 (Richardson). Don't live with tooth loss, talk to our team about a long-lasting and lifelike replacement option.