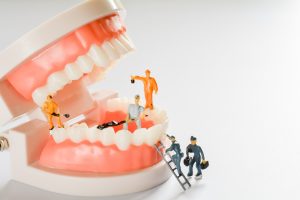 Our teeth are coated in enamel, the hardest substance in the human body. However, that doesn't mean they're invulnerable, and when damage occurs, you need to see the dentist! In today's blog, your Richardson, TX, dentist will explain how we approach treating common dental emergencies, and offering repair for parts of your smile that have become cracked, chipped, or even suffered from cavities or dental infections! No matter how minor or severe the damage, we can provide repair with lifelike and attractive dental restorations.
What Happens When a Tooth is Broken?
The outside of each tooth is coated in a thin layer of enamel. A powerful and strong layer, this protects the sensitive inner tissues from exposure to harmful oral bacteria, which in turn helps people avoid painful cavities and infections. However, when even minor chips occurs, such as a chip or crack, this could expose enough of the inner tissues to let bacteria come into contact with the dentin and eventually, the inner pulp, which means the onset of tooth decay and dental infection. Your smile could be injured as part of an accident or sports injury, or poor oral health could leave it vulnerable to weakness. Bruxism, in which a patient grinds or clenches his or her teeth on a nightly basis, could wear down enamel and tooth structure, cracking and chipping a tooth.
Responding to Your Dental Emergency
When a dental emergency happens, give us a call right. You can schedule emergency visits for treatment, even if your injury happens outside of normal business hours. In the meantime, rinse with warm water and if you can, recover any pieces of your tooth and place them in a sealed container to bring with you. If this is impossible, don't worry, we can still repair your tooth. A cloth or piece of gauze could help stem bleeding, and a cold compress or ice pack to the side of the face could reduce swelling. If any injury happens and no breakage is visible, consider scheduling a checkup anyway, as factors are often practically invisible to the naked eye. If a tooth is knocked loose, again let us know as soon as possible and take steps to control bleeding and swelling. Should a tooth be knocked out completely, place it in a glass of salt water or milk and bring it with you. If this is impossible, then gently place it back in the socket and bite down carefully, then come see us right away. You can also take an over-the-counter pain reliever to ease discomfort while in route.
Minor Repairs With Bonding and Contouring
For very minor breakage that don't expose inner structure, we could use contouring to gently sand and buff the outer structure and remove the chip's visibility. For more serious issues, we could perform a bonding procedure. Basically, we administer a numbing agent and clean the tooth. We prepare and place the bonding agent, a metal-free composite resin we shade to blend with the tooth. We then shape the tooth as this material cures under a light. Finally, we polish it for a more lifelike appearance. The process only takes one visit, and helps reshape malformed teeth, repair breaks or chips, and even mask unsightly discoloration.
Custom Crowns and Veneers
What if your damage is too severe to be handled with a bonding or contouring procedure? Well, we could also help with a custom porcelain restoration. A dental crown fits over the entire visible portion of each tooth, and using advanced CAD/CAM technology, we can design and place one in a single visit. To begin, we administer a numbing agent and remove structure from the tooth. We take detailed impressions and images with digital technology, which we use to create a 3D model. We then upload the information into an onsite milling machine, which crafts the finished product for us. The completed crown is then attached to the tooth with a powerful bonding agent. A crown could be used to address major breaks or cracks, and also address serious decay or infection. Now, if the injury is primarily cosmetic, we could place a porcelain veneer. This thin porcelain restoration looks natural, contains stain-resistant properties, and covers the front and sides of each tooth to instantly transform their appearance.
Protecting Teeth
Now that you know how we repair teeth and that we offer emergency dental care, what about avoiding damage altogether? First, make sure you brush and floss daily, and see us for checkups and cleanings. Good oral hygiene keeps teeth strong and safeguards the preventive layer of enamel, making your teeth more likely to stand up to injury. If you do play sports, we suggest a custom athletic mouthguard, which we can make for you. The mouthguard provides a greater level of protection than store bought ones, and limits the chances of a cracked or chipped tooth occurring. If you have an injured tooth, or if one begins to ache or feel sensitive, always let us know. We want to help you enjoy optimal oral health, and provide care for patients of all ages!
Our COVID-19 Protocols and More
As dentists, we know that people have avoided treatment due to COVID-19 concerns. Which means many are overdue for checkups and cleanings, and may have cavities and gum disease problems that need immediate attention. We want you and your family to know that we take your concerns seriously, and still operate with strict health and safety protocols to protect you. We're wearing PPE, limiting people in the waiting room, taking temperatures, and also using advanced technologies to regularly clean and scrub the air and surfaces of harmful viruses, bacteria, and allergens.
Your Richardson, TX, Dentist Offers Emergency Dentistry
When a tooth is damaged, we can offer a solution for patients of all ages, from kids to adults. For more information on how we approach repairing smiles and preventing further damage, then please schedule a consultation by calling the Viva Dental Family Dentistry office nearest you at (214) 337-7800 (Dallas) or (972) 437-6000 (Richardson). We want to make sure your entire family obtains healthy, strong smiles in 2021!