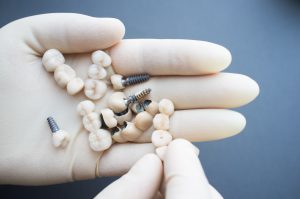 When you have a cavity, infection, or even a tooth that has become cracked, chipped, or lost, then you need a restoration. Instead of relying on metal ones, we employ lifelike materials which are safe for people of all ages. In fact, we can often repair teeth in only one visit with these restorations! In today's blog, your Richardson, TX, dentist will talk about how we design and create lifelike restorations to return your smile to optimal health, function, and beauty!
When You Need One
Sometimes, signs that you need restorative treatment are pretty obvious, such as when a tooth is chipped or broken, or fractured or worn-down. However, you should also consider an appointment when you begin to notice discomfort, such as tooth sensitivity and toothaches. While pain could arise due to changes in weather and elevation, or as a result of sinus and allergy issues, discomfort that lasts more than a day is often a sign of a cavity or the earliest stages of a dental infection. Treatment is then crucial for not only halting discomfort, but preventing the loss of the tooth or the spread of infection. This goes for people of all ages, as children are just as susceptible to decay and infection as teens and adults. Our team is skilled and experienced in treating people of all ages, and ensuring all patients, from our youngest to our oldest, enjoy a comfortable and relaxed visit. In fact, prior to treatment will discuss administering a local anesthesia and possible even sedation so you always have a comfortable experience!
Dental Fillings
A dental filling treats tooth decay, preventing aches and the risk of an infection. Instead of metal, we have an option that mimics the appearance of tooth structure. The composite resin we employ is a unique blend of glass and acrylic-like particles, which we can shade to blend with your smile. After we remove decay and clean the tooth, we will apply the material in several different layers. We then shape the tooth as the composite resin cures under a light. Finally, we polish the tooth, so you enjoy improvement in only one visit.
Dental Crowns
Dental crowns are a more substantial restoration for more severe issues. With partial crowns, we place an inlay in between the cusps on top of the teeth, and an onlay fits over the cusps. A full crown covers the entire visible portion of each tooth. We could create them from materials like ceramic, porcelain-fused-to-metal, and zirconia, which are all strong and durable. They contain stain-resistant properties, and can we shape them to blend with your smile. Placement could treat cavities, infection, and repair damaged or misshapen teeth too.
To create and place them, we remove structure from them and take detailed digital images and measurements to create a 3D computer model. We upload the information into an onsite CEREC milling machine, which then crafts the restoration from a solid block of ceramic. We check the fit and attach the finished product with a powerful bonding agent. Instead of requiring two to three visits, you enjoy a solid improvement in only one!
Porcelain Veneers
We also have options designed to address the esthetics of your teeth too! A porcelain veneer covers the front and sides of each tooth, and is custom-made and shaded for your smile. They instantly improve the beauty of your smile, addressing damaged or malformed teeth, and closing embarrassing gaps between them too. We mask permanent teeth stains, and also correct the appearance of minor misalignment, providing an alternative or braces or clear aligners for some patients. The process takes about two visits, and helps you obtain a stunning new smile. In fact, placing multiple veneers could essentially makeover your smile completely!
Bridges and Dentures
What if you have missing teeth? Being able to create a lifelike option also means addressing the gaps in your smile. For example, a dental bridge consists of new teeth and crowns, with the crowns being placed on natural teeth on each side of the gap in your smile. An implant restoration is a crown that completes the visible portion of your new tooth, so you can smile with confidence and resume eating your favorite meals again too. We take steps to ensure each prosthetic we create is custom-made of your smile, promoting a balanced bite and preventing the complications linked to tooth loss.
If you have any questions about how we create a lifelike dental restoration, or about when you may need one, then contact our team today to learn more. We would love to help you obtain a stunning new smile, and avoid worsening oral health. These repair options, many of which are metal-free, can help children, teens, adults, and seniors alike. To get started, just give us a call to schedule an exam.
COVID-19 Precautions
Right now, Texas is experiencing an alarming rise in COVID-19 cases due to the spread of the Delta variant. We understand, and we don't want the continuing pandemic to allow your oral health to worsen. Which is why we're continuing to maintain our strict precautionary measures. We limit who can be in the waiting room, require masks for patients, and our entire team is wearing protective gear (masks, face shields, gloves, and more). We've also added advanced technology, all of which are designed to clean the air and surfaces several times a day removing and destroying viruses and bacteria. The health and safety of our patient and our team members is paramount. If you have concerns or underlying health issues that cause you concern, then talk to our team about our health and safety measures.
Your Richardson, TX, Dentist Talks About Restorative Dentistry
Our team knows how to help create a dental repair that blends with your smile and also provides a durable repair. For more information on how we design and craft options that look lifelike, then please schedule a consultation by calling the Viva Dental Family Dentistry office nearest you at (214) 337-7800 (Dallas) or (972) 437-6000 (Richardson). We're still maintain our COVID-19 precautions and protocols, which helps keep both you and our team members safe when you visit our office!