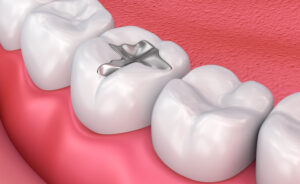 Tooth decay is a very common problem, and one that can impact babies, kids, teens, adults, and even senior citizens. Cavities pose serious problems for smiles, because they're so common and without care, they could lead to major complications. In today's blog, your Dallas, TX, dentist talks about how cavities form, and the importance of treating them with one of our lifelike dental restorations, such as a filling or crown.
The Causes of a Cavity
How does a cavity form in the first place? Tooth decay is a problem that impacts people of all ages, from babies to adults. Without treatment, this could eventually lead to worsening pain and even the onset of infections and in severe cases, the loss of the tooth itself. Tooth decay occurs when bacteria make contact with the inner dentin, the sensitive tissue that makes up 90% of a tooth's structure. Typically, the outer enamel protects the dentin, but poor oral hygiene could lead to plaque buildup, which weakens and erodes the enamel. Likewise, damage from injury or teeth grinding could also compromise the enamel. Once the cavity forms, it will grow and spread unless treated.
What Happens Without Treatment
Without treatment, the decay spreads until it makes contact with the inner pulp, the group of living tissues that keeps each tooth healthy and functional. At this point, the tooth could become infected or abscessed. This means worsening pain, and the risk of tooth loss or the need for extraction. If the tooth stays in place, this increases the risk of infection reaching other teeth or moving into the jaw. Which is why when you encounter persistent tooth sensitivity or toothaches that last for more than a day, you should let us know right away. If you attend six month checkups and cleanings, then our team can likely identify the problem in the earliest stages of demineralization, before you even encounter discomfort.
Dental Fillings
Everything starts with an initial examination, in which we take detailed images of the teeth with intraoral cameras and digital x-trays. These provide detailed images instantly chairside, so we can walk you through the diagnosis and identify problems in the earliest stages. Once we diagnose the presence of a cavity, we will likely offer a dental filling to bring relief. The process begins with the administration of a local anesthetic to keep you comfortable. If you have dental anxiety, then we can offer sedation to help you enter a calm and relaxed state with little to no memory of the procedure. We then remove the decay and thoroughly clean the tooth. We may etch the surfaces as well. We pare and place the filling material, a metal-free composite resin that we can shade to blend with the tooth structure. Once the material is in place, we will sculpt and mold the tooth as the composite resin cures under a light. The last step is to polish the tooth for a brighter appearance. This only takes one visit to complete, and is helpful for kids and adults alike.
Crowns and Root Canals
What if the cavity is too severe for a filling, or has started to become a dental infection? We could offer a restoration with a crown, removing decay and then structure from the tooth to make room for the restoration. The crown covers the entire visible portion of the tooth, and we can use materials like ceramic to ensure a lifelike appearance, shading it to blend with the rest of the smile. If the tooth is infected, we could use a root canal procedure to gently extract the infected tissues. We then clean the inside of the tooth and administer a special restorative filling. The last step is to cap the tooth with a natural-looking dental crown. These options can help restore the function, health, and beauty to your smile, and safeguard you from worsening infection or tooth loss.
Preventive Treatments
We would love to help you and your children avoid the onset of tooth decay whenever possible. When your children visit, we can offer fluoride gel to the teeth. This helps strengthen the outer enamel and prevent cavities. We could also offer dental sealants, a special acrylic coating that we cover the rear teeth with. Since kids have trouble reaching these when they brush and floss, these sealants can prevent food from becoming stuck on or between them. They then wear away gradually with time, lasting as long as ten years in some cases. As they wear away, they cling to the more vulnerable parts of a tooth the longest.
Good homecare is also essential for avoiding the onset of a cavity. People of all ages need or start and finish their day by brushing for two minutes. Kids three and younger need a rice-sized amount of fluoride toothpaste, and everyone over the age of three needs a pea-sized amount. Flossing is also crucial as this helps remove what a toothbrush alone cannot reach, and every needs to floss. Trying to cut back on foods and drinks high in sugar is helpful too, as the sugar particles feed the harmful bacteria and lead to plaque buildup and cavities. You should also see our team every six months for a checkup and cleaning. We will examine your smile to see if there are areas of concern and offer treatment before you experience painful symptoms. The cleaning helps fight cavities by removing all harmful layers of plaque and tartar completely from the smile.
If you have any questions about how to identify and treat a cavity, or about the steps necessary to avoid them altogether, then contact our team today to learn more. We want to help your entire family enjoy your best possible smiles!
Your Dallas, TX, Dentist Provides Pediatric Dentistry
We would like to help your teeth stay free of painful complications with preventive and restorative dental care. For more information on safeguarding kids and adults alike from cavities, then please schedule a consultation by calling the Viva Dental Family Dentistry office nearest you at (214) 337-7800 (Dallas) or (972) 437-6000 (Richardson). We want to help you and your whole family avoid painful oral health problems.