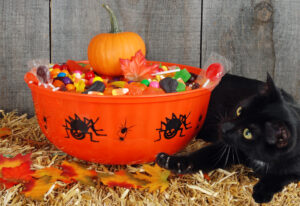 Can you believe Halloween is only a few days away? Which is why we want to remind you about our Halloween Buyback program, which can help safeguard your kids against cavities following their trick or treat fun! In today's blog, your Richardson, TX, dentist talks about buying your kids candy and supporting a good cause at the same time!
Our Halloween Buyback
Each year we host a Halloween Buyback at our Richardson and Dallas office locations, giving parents and kids a chance to offload their excess candy for a little cash. Everyone wins, especially their smiles! We will pay one dollar for every pound of unopened and wrapped candy, and then send the candy overseas to our troops through the Operation Gratitude program. In addition, your child is entered into a raffle for a chance to win a brand-new Philips Kids Sonicare toothbrush, which will make thorough brushing much easier for your little one. For our Richardson office (722 West Spring Valley Road) we will host a buyback on Wednesday, November 9th from noon until 7pm. For our Dallas location (1050 North Westmoreland Road) this will take place on Thursday, November 10th from noon until 7pm. So, mark your calendars and don't miss out!
The Dangers of Tooth Decay
Cavities impact smiles of all ages, but kids are an especially high risk. During Halloween and the upcoming holiday season, children are inundated with sweets. Sugar particles then cling to their teeth and could even become stuck between them. Without removal, harmful oral bacteria will begin to break down these particles. This process leads to a number of issues, including teeth stains, bad breath, higher oral acidity, and plaque buildup. The buildup will weaken and erode the outer enamel to expose the sensitive inner tissues to harmful bacteria, a complication that causes tooth decay to form. Your children will eventually experience tooth sensitivity when they eat and drink, or a toothache that doesn't pass, as the decay grows more severe and potentially causes a dental infection and threatens the stability of your child's tooth!
Better Care at Home
There are actions you can take to help protect your child's smile. For example, when they come home with their Halloween treats, have them select a few favorite pieces and sell the rest to us. Then try to limit them to a few pieces a day, right after dinner and followed with a glass of water. This will help cleanse the mouth and remove sugar particles. If you're handing out treats this year, consider opting for healthy and sugar-free options like sealed packages of gum, nuts, or trail mix. You can also offer fun spooky season party favors, like spider rings and plastic skeletons, or stickers or temporary tattoos.
Finally, make sure they're brushing and flossing daily! Kids need to do this to remove trapped particles and reduce the severity of plaque before the next cleaning visit. Children should brush for two minutes when they wake up and then again before bed. Search time, they should use a fluoride toothpaste to strengthen the outer enamel. Those three and older need a pea sized amount, while those under the age of three should use a rice sized amount. Flossing before bed is essential too, as this removes what a toothbrush cannot reach.
Preventive Treatments
Our team could also offer special treatments to limit the risk of tooth decay. With a topical fluoride gel applied during each checkup visit, we can help fortify the outer enamel to prevent cavities. If your child has the early stages of demineralization, we can apply a silver diamine fluoride to halt the rate of decay and prevent the need for a filling. But should a cavity need a filling, we can offer a metal-free and lifelike composite resin option in only one visit. Finally, we could offer dental sealants. This is a special plastic coating we apply to the rear teeth to prevent food particles from becoming stuck between them. Kids often have trouble reaching these teeth when they brush and floss, so this could be essential for avoiding cavities. They can stay in place for up to ten years in some cases, and will wear away with time. As they wear away, they will cling the longest to the most vulnerable portions of your child's tooth structure.
Checkups and Cleanings
Children should see us for a checkup and cleaning once every six months, so we can monitor them for signs of trouble and for treatment, and so we can remove all plaque and tartar to prevent tooth decay. Our team can also discuss good oral health habits and help them understand their smile. These visits lower dental anxiety, and make your little ones more likely to seek dental care in adulthood too. If you haven't scheduled one lately, we would love to see you and your children for routine preventive care, and to provide any necessary treatments to keep smiles whole, healthy, and bright.
Use Your Benefits
If you have dental insurance or a health savings account, then you have benefits and funds that you've earned and paid for, and that will expire at midnight on December 31st unless used. Before the hectic holiday season makes your schedule full, why not schedule a visit for your child's next checkup and cleaning. We can also offer any necessary treatments as well. If you have any questions about protecting little smiles during the spooky season, or about our annual candy buyback program, then contact our team today to learn more. We want to help your little ones smile with confidence throughout the year!
Your Richardson, TX, Dentist Protects Smiles Against Cavities
We want to make sure your little ones can enjoy their Halloween fun and avoid the onset of cavities. For more information on the care we offer to help prevent cavities and other serious issues, then please schedule a consultation by calling the Viva Dental Family Dentistry office nearest you at (214) 337-7800 (Dallas) or (972) 437-6000 (Richardson). An appointment now is a chance to use your dental benefits and health savings accounts funds before they're gone!