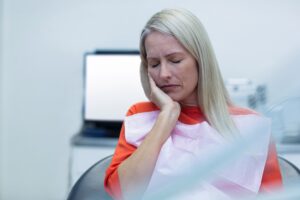 When you have a toothache, this could possibly mean the presence of a city or possibly a dental infection. Lack of action to address the discomfort could leave your smile vulnerable to worsening pain and even lost teeth. To bring relief to aching teeth, your Dallas, TX, family dentist could offer lifelike dental restorations, such as fillings and crowns.
Temporary Aches
You could experience short-lived aches due to sinus or allergy concerns, changes in elevation, or even a ride in an airplane. However, these will pass after just a few hours. If you have tooth sensitivity or toothaches that persist for more than a day, you should seek treatment. These could be warning signs of an untreated cavity or even the earliest stages of a dental infection.
Cavities and Aching Teeth
Each tooth is coated in a layer of outer enamel, which is very strong and durable. However, teeth grinding or an injury, or poor oral health habits that lead to major plaque buildup, could damage or erode the other enamel. The sensitive inner structures are then exposed to bacteria, leading to the onset of a cavity and eventually, painful symptoms like toothaches.
Dental Fillings and Crowns
If you have tooth decay in the very early stages, we could halt the decay with Silver Diamine Fluoride (SDF). Applied to the teeth, this stops decay and prevents the need for a restoration. If the cavity is too advanced for his option, we could place a filling. Using composite resin, our team will place one that looks natural and blends with your tooth. In one visit, you enjoy quality treatment. But if your cavity is advanced, or has become infected, then we may conduct a root canal and then cap the tooth with a crown, which provides lifelike protection for your tooth, preserving your smile and preventing aching teeth.
Taking Preventive Action
Preventive actions could also be taken to help your smile and prevent toothaches! With a few simple habits, you could lower your risk of tooth decay. For example, you should brush twice a day and floss every evening to remove stray food particles and limit the severity of plaque buildup. Avoiding lots of foods and drinks high in sugar is helpful too. We also urge you to see us every six months as well, so we can offer a checkup and identify decay in the earliest stages. We also remove all plaque buildup to fight cavities, as well as gingivitis and gum disease.
Your Dallas, TX, Dentist Provides Comfortable and Healthy Smiles
We would love to help our patients avoid aching teeth and other uncomfortable symptoms. For more information on maintaining your best smile, then please schedule a consultation by calling the Viva Dental Family Dentistry office nearest you at (214) 337-7800 (Dallas) or (972) 437-6000 (Richardson).