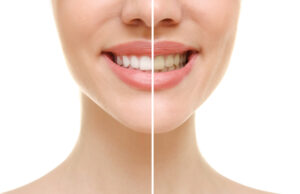 When you have dental discoloration, you could feel uncomfortable with your smile's appearance. Instead of relying on less-than-stellar store-bought whitening strips and toothpastes, we can provide more dramatic and longer-lasting results with professional teeth whitening. In today's blog, your Dallas, TX, dentist talks about our in-office and at-home teeth whitening treatments.
The Factors Behind Teeth Stains
First, let's talk about the common factors behind your teeth stains. Discoloration often forms due to our daily habits. For example, lack of proper brushing and flossing, combined with a diet high in sugar and starch, means plaque buildup that makes stains more visible. The same layers also lead to tooth decay and gum disease too. Consuming beverages high in sugar and dark pigments could promote plaque and discoloration, so consider cutting back on soda, red wine, tea, and coffee. Avoiding tobacco products can help fight stains too! Our team will actually conduct an examination to assess the cause and extent of your stains, so we can choose the most appropriate teeth whitening treatment for your smile.
Removing Discoloration in One Visit
With our in-office teeth treatment, we offer stunning results in only one visit, usually in about one to two hours total. To do so, we simply place a protective covering on your lips and gums, and then apply the bleaching gel to the teeth. We activate the bleaching gel with a special light, which breaks up teeth stains and offers a brighter appearance. This option is often preferred for people who need results quickly before a big event, such as a job interview or even a first date or graduation celebration.
Take-Home Teeth Whitening
We also have a take-home teeth whitening option, one far more effective than store bought strips and toothpaste. This option also helps limit tooth sensitivity, and can tackle more severe staining. The process starts with a quick office visit, so we can use impressions of your smile to create a set of plastic trays. We then send you home with these trays and a powerful bleaching gel in several plastic syringes. At home, you add the gel to the trays and wear them for about 30 to 45 minutes a day, or possibly overnight, depending on the extent of your issue. After one to two weeks, you could have teeth several shades brighter!
Masking Permanent Discoloration
If you have permanent teeth discoloration, which form beneath the enamel, we could mask them with dental bonding or possibly custom porcelain veneers!
Your Dallas, TX, Dentist Provides a Brighter Smile
We would like to help you enjoy a brighter smile that makes you feel confident. For more information on fighting dental discoloration, then please schedule a consultation by calling the Viva Dental Family Dentistry office nearest you at (214) 337-7800 (Dallas) or (972) 437-6000 (Richardson).