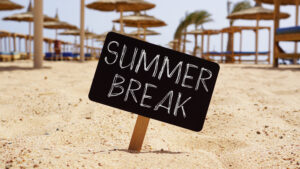 Summer break is here! Which means many families may end up becoming lax on their oral hygiene habits, especially kids. Which is why your Richardson, TX, dentist wants to remind everyone how important it is to eat a healthy diet and brushing and floss, even when you're on summer break or heading out on a vacation!
Watch Your Sugar Intake
When we consume foods and drinks with a lot of sugar, this leaves behind particles trapped on or between the teeth. The same goes or meals high in starch. Harmful oral bacteria then break down and consume these particles, a process that elevates oral acidity and coats the teeth in plaque and tartar, which in turn means a greater risk of everything from bad breath and teeth stains to tooth decay and gum disease.
Simply put, to avoid cavities and sore gums, we need to watch what we eat. Limit how many sugary snacks and meals you eat, and when you do eat a piece of candy or something similar, follow it with a glass of water to help cleanse your mouth. Fresh fruit can offer a refreshing summer treat that's good for your smile!
Brush and Floss (Even on Vacation)
We also need to care for our teeth each day, even if we're hitting the road for a vacation. Whether you and your family are at home or on the road, start each day by brushing for two minutes with a fluoride toothpaste, and then do the same every evening. You also need to floss before you brush for the second time too. These actions remove trapped food and drink particles, to help lower the risk of cavities and periodontal concerns! This goes for kids and adults alike.
Schedule a Checkup Visit
You can also schedule a checkup visit for the whole family, since your kids no longer have to miss school! A checkup is a chance to carefully examine your smiles with digital x-rays and intraoral camera images, so we can make a diagnosis with precision and accuracy. We then create a treatment plan to address any concerns we have, so you enjoy a bright and healthy smile this summer. In the same visit, our team will also clean the teeth thoroughly to remove harmful plaque and tartar,
If you have any questions, then contact our team today!
Your Richardson, TX, Dentist Offers Gentle Tooth Extraction
We want to make sure you or your child avoid the complications of the third molars. For more information on protecting smiles from the onset of cavities and periodontal troubles, then please schedule a consultation by calling the Viva Dental Family Dentistry office nearest you at (214) 337-7800 (Dallas) or (972) 437-6000 (Richardson).