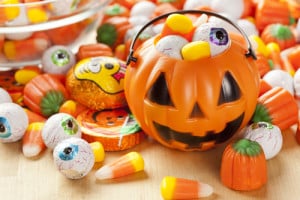 Halloween is just a few days away! Nothing is more fun for kids than dressing up in costumes and going door-to-door for candy. However, we all know too much of a good thing can be bad. To help your kids avoid tooth decay and other issues that come with consuming too much candy, we're once again offering our Halloween candy buy back program.
The Halloween Candy Buyback Program
If you bring your candy to our Richardson office on Wednesday, November 4th between noon and 8pm we will pay you $1 per pound. Our Dallas location will host the event at the same times on November 5th. The candy we receive will then be donated to our troops overseas through Operation Gratitude. You can help protect your little one's smile by reducing the risk of tooth decay and toothaches.
How Does Candy Lead to Cavities?
Candy contains a lot of sugar. When these particles become stuck between the teeth, bacteria break them down. This process does two things, coating the teeth in plaque and also boosting the levels of oral acidity. Combined, these factors weaken the enamel coating your teeth. When bacteria can bypass the enamel and reach the inner layers of dentin a cavity can form.
Patients may then develop sensitive teeth and toothaches. Without treatment, the decay will continue to progress until the tooth becomes infected. At this stage, your child will require a root canal or possibly an extraction.
Tips for Avoiding Tooth Decay
How do you reduce the risk of cavities? Well, there are a few simple steps:
Limit candy consumption to just after dinner and drink water to rinse away the sugar particles
Brush your teeth twice a day and floss everyday before going to bed
Have your teeth professionally cleaned twice a year
Cut back on sugary foods and drinks
If you have any questions or would like to schedule a checkup an cleaning, then contact our office today.
ABOUT YOUR RICHARDSON, TX, DENTIST:
Viva Dental in Dallas, TX, welcomes patients from North Oak Cliff, Bishop Arts District, Kessler Park, Duncanville, Grand Prairie, and nearby cities. Viva Dental in Richardson, TX, happily welcomes patients from North Dallas, Plano, Garland, and the surrounding communities. To learn more, contact the Viva Dental office nearest you. To schedule an appointment, call Viva Dental Family Dentistry at (214) 337-7800 (Dallas) or (972) 437-6000 (Richardson).