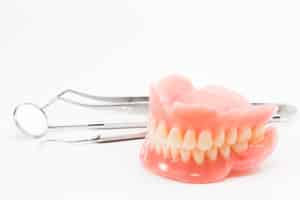 Have you lost one or more of your permanent teeth? If so, then you may benefit from a dental prosthetic. Otherwise, not only will your appearance suffer, but your overall health as well. We offer a number of different options for replacing teeth and restoring the health and function of smiles. Do you need a dental prosthetic? Which option will work best for you?
Frequently Asked Questions About Dental Prosthetics
Question: Why do we need to replace lost teeth?
Answer: First, losing a tooth can lead to misalignment, increasing the risk of tooth decay and gum disease. In addition, the body registers the loss of a tooth root and suspends the flow of nutrients to that area, which leads to jawbone loss and a higher risk of facial collapse. Missing teeth also make eating and speaking difficult.
Question: What is a dental bridge?
Answer: A bridge is a prosthetic connected to natural teeth on either side of the gap in your smile, anchoring a replacement tooth/teeth in place. This option can replace between one and three teeth in a row. They last about 10-15 years before requiring adjustment or replacement.
Question: Do I need full or partial dentures?
Answer: There are two different types of dentures. A full denture replaces all of the teeth one or both arches, consisting of an acrylic base designed to look like natural gum tissue and a row of replacement teeth. For people with several missing teeth who don't need a full prosthetic, partials consist of a gum-like base, replacement teeth, and metal clasps that attach to the natural teeth.
Question: Do I qualify for dental implants?
Answer: Dental implants are surgically placed in the jaw, replacing both the root and crown of a missing teeth. They look completely natural, bond with the jawbone, and can last for a lifetime. Candidates for the procedure must have enough jawbone tissue to support the new tooth and be free of periodontal disease, which could otherwise cause implant failure.
ABOUT YOUR DALLAS, TX, DENTIST:
Viva Dental in Dallas, TX, welcomes patients from North Oak Cliff, Bishop Arts District, Kessler Park, Duncanville, Grand Prairie, and nearby cities. Viva Dental in Richardson, TX, happily welcomes patients from North Dallas, Plano, Garland, and the surrounding communities. To learn more, contact the Viva Dental office nearest you. To schedule an appointment, call Viva Dental Family Dentistry at (214) 337-7800 (Dallas) or (972) 437-6000 (Richardson).