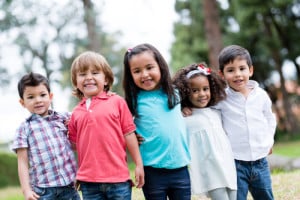 At Viva Dental, we want to make sure the children in our community receive the dental care they need to maintain a lifetime of healthy smiles. As part of this commitment, we will be participating in our annual "Give Kids A Smile" event. Your children can receive free preventive care to help protect your smile from tooth decay.
Children's Dental Health Month
In February, the American Dental Association (ADA) and practices across the country observe National Children's Dental Health Month. During this campaign, healthcare providers and educators strive to offer children and adults crucial information on proper oral health. We want everyone to understand what steps are necessary to protect smiles from common problems, such as tooth decay, and maintain a healthy smile for life.
Give Kids a Smile
Did you know that studies show 25% of kids between the ages of two and five have cavities? In addition, over 50% of children between the ages of 12 and 15 suffer from tooth decay as well. In most cases, simple preventive measures could help prevent decay from forming in the first place.
In order to help provide these preventive services, we are once again participating the "Give Kids A Smile" event. Bring your aged 12 and under child to our Richardson, TX office on Friday, February 26th and we will be performing free dental cleanings and placing dental sealants. A dental sealant is a plastic coating we place on the back teeth to prevent food from becoming stuck between them, reducing the risk of cavities in children.
How Do I Keep My Child's Smile Healthy?
You can start taking steps now to improve your little one's oral health. We recommend:
Helping your child brush twice a day, once in the morning and again before bed
Flossing before bed every night
Avoiding sugary snacks and drinks
Seeing the dentist once every six months for a checkup and cleaning
ABOUT YOUR RICHARDSON, TX, DENTIST:
Viva Dental in Dallas, TX, welcomes patients from North Oak Cliff, Bishop Arts District, Kessler Park, Duncanville, Grand Prairie, and nearby cities. Viva Dental in Richardson, TX, happily welcomes patients from North Dallas, Plano, Garland, and the surrounding communities. To learn more, contact the Viva Dental office nearest you. To schedule an appointment, call Viva Dental Family Dentistry at (214) 337-7800 (Dallas) or (972) 437-6000 (Richardson).