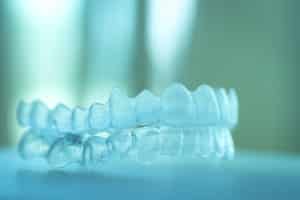 We've discussed before how uneven teeth can hurt both your appearance and oral health. In many cases, a patient may wear braces to correct his/her smile. However, we can also offer a practically invisible solution to misalignment. With Invisalign, patients can improve the alignment of their teeth with a series of clear plastic aligners. Our prosthodontist, Dr. Ambriz, is experienced in treating smiles with Invisalign. Do you have questions about Invisalign?
Frequently Asked Questions About Invisalign
Question: How does this differ from regular braces?
Answer: Traditional braces involve placing metal brackets onto the front surface of the teeth. The dentist then connects the brackets with an arch. By adjusting tension the teeth are repositioned over a period of 18 months to 2 years on average. With clear aligners, patients wear a custom-made series of aligners, upgrading to a new set once every two weeks. Made from clear plastic, they reposition the teeth without metal orthodontics.
Question: Who can wear clear aligners?
Answer: We typically recommend this option for patients over the age of 16. Candidates also have more minor cases of malocclusion. Serious misalignment may require traditional braces to address properly. We will examine your smile to see which option works best for you.
Question: How long does treatment last?
Answer: For adults, treatment typically takes about a year. Younger patients may need up to 18 months to see optimal results.
Question: What are the benefits?
Answer: The aligners are practically invisible when worn, unlike metal braces. In addition, patients consider treatment more comfortable than wearing traditional orthodontics. You can remove them before meals, so you don't need to change your diet. Treatment also requires fewer office visits. If you have any questions about Invisalign then please contact our office today.
ABOUT YOUR DALLAS, TX, DENTIST:
Viva Dental in Dallas, TX, welcomes patients from North Oak Cliff, Bishop Arts District, Kessler Park, Duncanville, Grand Prairie, and nearby cities. Viva Dental in Richardson, TX, happily welcomes patients from North Dallas, Plano, Garland, and the surrounding communities. To learn more, contact the Viva Dental office nearest you. To schedule an appointment, call Viva Dental Family Dentistry at (214) 337-7800 (Dallas) or (972) 437-6000 (Richardson).