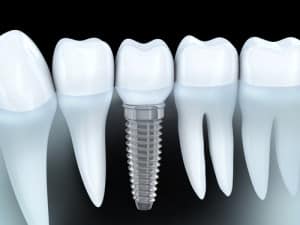 Losing even a single tooth can have a negative impact on your appearance. What you may not know, however, is how tooth loss can also impact your oral health. In order to avoid complications you need to seek tooth replacement. Do you need a bridge or an implant? Which option provides the strongest tooth replacement?
Replacing Missing Teeth
Losing a tooth can lead to a number of serious oral health complications, such as:
Misalignment
Higher risk of tooth decay and gum disease
Higher risk of TMJ disorder and bruxism
Loss of jawbone tissue
Older appearance due to facial collapse
In order to avoid or limit the severity of these complications, you need to seek tooth replacement right away.
Dental Bridge
Dental bridges are prosthetics that consists of replacement teeth attached to crowns. The crowns are placed onto the natural teeth on each side of the gap in the smile, securing the new prosthetic. A bridge can replace between one and three teeth in a row and may require adjustment or replacement periodically.
Dental Implants
Instead of just replacing the crown of a root, a dental implant replaces the root as well. Our prosthodontist, Dr. Ambriz, will oversee the placement of the implant post, which is made from biocompatible material. The post bonds with the jawbone and acts as a new root. After the area heals, a restoration will be attached with an abutment. Dental implants offer a number of benefits, including:
Offering long lasting replacement (a lifetime in many cases)
Providing a natural looking appearance
Preventing facial collapse by stimulating jawbone growth
If you have any questions about dental implants or our other tooth replacement options then contact our office today.
ABOUT YOUR RICHARDSON, TX, DENTIST:
Viva Dental in Dallas, TX, welcomes patients from North Oak Cliff, Bishop Arts District, Kessler Park, Duncanville, Grand Prairie, and nearby cities. Viva Dental in Richardson, TX, happily welcomes patients from North Dallas, Plano, Garland, and the surrounding communities. To learn more, contact the Viva Dental office nearest you. To schedule an appointment, call Viva Dental Family Dentistry at (214) 337-7800 (Dallas) or (972) 437-6000 (Richardson).