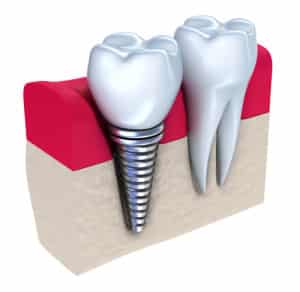 If you have lost one or more teeth, then both the appearance and health of your smile is at risk. In order to enjoy optimal oral health, you need to restore your missing teeth. Fortunately, we can provide a durable and lifelike tooth replacement option with dental implants. Do you have questions about replacing teeth with dental implants?
Frequently Asked Questions About Replacing Teeth With Dental Implants
Question: How do dental implants work?
Answer: Other dental prosthetics only replace the visible portion of the tooth, or the crown. But implants also replace the root as well. The implant portion actually bonds with the bone tissue, allowing the new tooth to be supported like a natural one and provide longer lasting replacement.
Question: How are they placed?
Answer: Our prosthodontist, Dr. Ambriz, will surgically place the implant, made from biocompatible titanium. After the area heals, an abutment will be added to hold the new crown in place. You will then have a new tooth that blends seamlessly with your smile.
Question: Who qualifies for them?
Answer: We recommend them for people who have lost one or more teeth and have enough healthy jawbone tissue to support the new tooth. We also want patients to be free of advanced periodontal disease, or periodontitis, as this can cause the new tooth to fail.
Question: How long do they last?
Answer: They can last a lifetime with proper care and maintenance. They should be cared for just as you would a natural tooth. You should brush and floss daily and see your dentist for cleanings about once every six months. If you have any questions about our tooth replacement options then please contact our office today.
ABOUT YOUR RICHARDSON, TX, DENTIST:
Viva Dental in Dallas, TX, welcomes patients from North Oak Cliff, Bishop Arts District, Kessler Park, Duncanville, Grand Prairie, and nearby cities. Viva Dental in Richardson, TX, happily welcomes patients from North Dallas, Plano, Garland, and the surrounding communities. To learn more, contact the Viva Dental office nearest you. To schedule an appointment, call Viva Dental Family Dentistry at (214) 337-7800 (Dallas) or (972) 437-6000 (Richardson).