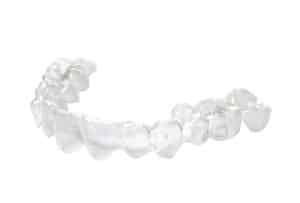 You may assume that metal braces are your only option for enjoying a more even smile. However, we also offer a more esthetically pleasing alterative with the Invisalign system. Who qualifies for clear smile correction? Can anyone obtain a straighter smile with a series of clear aligners instead of braces?
Try Our Clear Smile Correction Quiz
True or False: Patients should have minor misalignment.
True or False: Both teens and adults can receive Invisalign.
True or False: Aligners correct smiles in about a year.
True or False: You don't have to change how you eat.
Answer Key
True. Treatment works best for those with minor misalignment issues. We can examine your smile to assess the cause and severity of your alignment problems. From there, we can decide if this or braces are the best choice for correcting your smile.
True. Patients should be 16 and older. For teens, the aligners will include a blue dot on the end. If the aligners are worn correctly the dot will wear off. Parents and the doctor can then monitor usage and make sure they are being worn properly.
True. Typically, treatment takes about a year. However, for teens or adults with more serious misalignment, total treatment could take up to 18 months. After a consultation and exam we can give you an estimate of how long your treatment will take.
True. With braces, you have to avoid hard or sticky foods, as these could damage orthodontics or become stuck in them, increasing the likelihood of tooth decay occurring. However, with Invisalign you can remove the aligners before you eat. You don't need to change your diet of avoid certain foods.
ABOUT YOUR DALLAS, TX, DENTIST:
Viva Dental in Dallas, TX, welcomes patients from North Oak Cliff, Bishop Arts District, Kessler Park, Duncanville, Grand Prairie, and nearby cities. Viva Dental in Richardson, TX, happily welcomes patients from North Dallas, Plano, Garland, and the surrounding communities. To learn more, contact the Viva Dental office nearest you. To schedule an appointment, call Viva Dental Family Dentistry at (214) 337-7800 (Dallas) or (972) 437-6000 (Richardson).