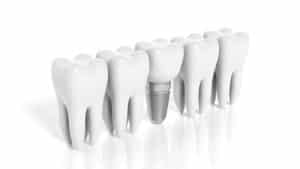 As we've discussed before, dental implants can provide a lifelike and long lasting option for tooth replacement. However, not everyone is an optimal candidate for this procedure. Do you qualify for dental implants? What factors help determine the best tooth replacement options for patients?
Frequently Asked Questions About Qualifying For Dental Implants
Question: Does the presence of gum disease impact tooth replacement?
Answer: Yes. Advanced gum disease, also known as periodontitis, can lead to adult tooth loss. Likewise, the disease can also cause implant failure. As a result, we need patients to have healthy gum tissue before proceeding with the tooth replacement procedure. We will examine your smile during an initial consultation to look for signs of periodontal problems.
Question: Does the amount of jawbone tissue factor in?
Answer: yes. Tooth loss can lead to loss of jawbone density. Once the body registers the loss of a tooth root, it suspends the flow of nutrients to the surrounding jawbone, causing it to dissolve. If you don't have enough jawbone tissue to support the new tooth, you may need a bone grafting procedure or to discuss alternative tooth replacement options.
Question: What if I'm missing multiple teeth?
Answer: A dental implant can be used to replace a single missing tooth. However, if you have advanced tooth loss multiple implant posts can be placed into the jawbone to support a fixed prosthetic, such as a set of dentures.
Question: How long will the new tooth last?
Answer: Dental implants can potentially last a lifetime, provided the patient takes proper care of his/her smile. If you have any questions about replacing missing teeth, then contact our office today. We want to help you enjoy a whole smile again.
ABOUT YOUR DALLAS, TX, DENTIST:
Viva Dental in Dallas, TX, welcomes patients from North Oak Cliff, Bishop Arts District, Kessler Park, Duncanville, Grand Prairie, and nearby cities. Viva Dental in Richardson, TX, happily welcomes patients from North Dallas, Plano, Garland, and the surrounding communities. To learn more, contact the Viva Dental office nearest you. To schedule an appointment, call Viva Dental Family Dentistry at (214) 337-7800 (Dallas) or (972) 437-6000 (Richardson).