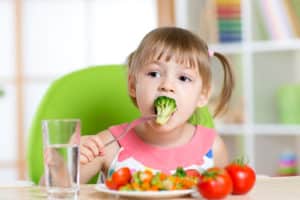 You want your child to enjoy a lifetime of good oral health, but may not know where to start. Fortunately, we can help you protect your little one's smile from harmful oral health concerns, such as cavities or gingivitis. There are a number of tips for improving children's dental health, from proper brushing and flossing to providing healthier snack alternatives.
5 Tips for Improving Children's Dental Health
Brush and Floss Daily: Your little ones need to brush and floss as often as adults do. You should help your child brush twice a day, once when they wake up and again before going to bed. Once they have more then one tooth touching, you should help them floss with a floss pick every night before bed. To help them stay excited about cleaning their teeth you can let them pick out their toothbrush and floss/floss picks.
Drink More Water: Soda, energy drinks, sports drinks, and fruit juice have one thing common: they all increase the risk of tooth decay. But water? A glass of water contains no sugar or acidic content. In fact, your tap water contains fluoride, which helps strengthen a tooth's defenses against harmful bacteria.
Offer Healthy Snack Alternatives: Instead of sugary snacks, why not offer your child nuts, fresh fruit, and vegetables? These are healthier alternatives that can promote better oral health, as well as improved overall health.
Talk to the Dentist About Dental Sealants: Fluoride strengthens a tooth's natural defenses and dental sealants prevent food from becoming trapped between teeth, protecting your little one's smile from cavities.
Undergo Regular Checkups and Cleanings: Every six months your child should undergo a routine checkup and cleaning.
ABOUT YOUR DALLAS, TX, DENTIST:
Viva Dental in Dallas, TX, welcomes patients from North Oak Cliff, Bishop Arts District, Kessler Park, Duncanville, Grand Prairie, and nearby cities. Viva Dental in Richardson, TX, happily welcomes patients from North Dallas, Plano, Garland, and the surrounding communities. To learn more, contact the Viva Dental office nearest you. To schedule an appointment, call Viva Dental Family Dentistry at (214) 337-7800 (Dallas) or (972) 437-6000 (Richardson).