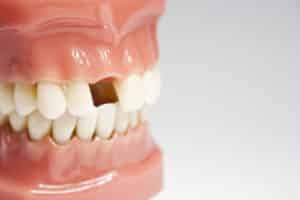 Did you know that losing even a single tooth can increase the risk of serious complications, ranging from misalignment to TMJ disorder and bruxism? As the rate of tooth loss increases, so does the risk of facial collapse and other oral health concerns. Fortunately, we have options available to help replace one or more missing teeth. If you have a missing tooth, contact our office today to discuss whether you benefit from a bridge or an implant.
Dental Bridge
A bridge can replace one or up to three lost teeth, provided they are in a row. The prosthetic consists of replacement tooth/teeth with crowns on either end. We prepare the natural teeth on each side of the gap in your smile. The crowns are placed on these prepared teeth, anchoring the new teeth in place. A bridge requires special cleaning and can last for between 10 and 15 years. We use lifelike materials to ensure the new teeth and crowns blend with your smile.
Dental Implant
An implant is inserted directly into the jawbone, where the implant post portion acts as a new root and bonds with the bone tissue. We then place a restoration to act as the visible portion of the tooth. An implant looks natural and with proper care and attention, can last for a lifetime. We can replace a single lost tooth or use several implants to secure a fixed prosthetic.
Dentures
Should you suffer from advanced tooth loss we can recommend a full or partial denture. A full denture is removable and held in place with natural suction. The denture replaces all of the teeth on one or both arches. A partial consists of replacement teeth and metal clasps that attach to the remaining natural teeth, holding the prosthetic in place. A partial addresses tooth loss that requires more than a bridge but is not severe enough to require a full prosthetic.
ABOUT YOUR RICHARDSON, TX, DENTIST:
Viva Dental in Dallas, TX, welcomes patients from North Oak Cliff, Bishop Arts District, Kessler Park, Duncanville, Grand Prairie, and nearby cities. Viva Dental in Richardson, TX, happily welcomes patients from North Dallas, Plano, Garland, and the surrounding communities. To learn more, contact the Viva Dental office nearest you. To schedule an appointment, call Viva Dental Family Dentistry at (214) 337-7800 (Dallas) or (972) 437-6000 (Richardson).