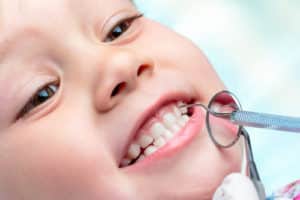 Summer is a great time to schedule your kids a visit. They can see the dentist for routine exams and cleaning. Kids can also have issues treated before school starts. Why wait and have to worry about their visits conflicting with school or after-school activities? There are a number of reasons to make sure your children see the dentist this summer.
Common Questions About Summer Visits
Question: Why do kids need a checkup?
Answer: A checkup allows the doctor to carefully exam the teeth and gums for possible signs of trouble. Problem areas can then be treated before they progress and require more intensive, and expensive, treatment down the road. These visits also help children become accustomed to seeing the dentist, which reduces dental anxiety later in life.
Question: Should my little one also have a cleaning?
Answer: We may recommend a cleaning as this is the only way to completely remove plaque buildup from the teeth. Removing plaque reduces the risk of both tooth decay and gingivitis. In addition, the cleaning helps them enjoy brighter smiles and fresher breath.
Question: Does my child need sealants or fluoride treatments?
Answer: Sealants involve coating the rear teeth in a plastic coating to prevent food from becoming stuck between them. Fluoride involves applying a varnish to the teeth that strengthens the teeth's natural defenses against tooth decay. If we feel your child is susceptible to decay, we may recommend these procedures.
Question: How often should my little one brush or floss?
Answer: Your children, regardless of age, should brush twice a day once teeth begin to erupt. In addition, once they have more then on tooth they should be flossing once a day. You can assist them early on and later monitor them to make sure they are brushing and flossing correctly.
ABOUT YOUR RICHARDSON, TX, DENTIST:
Viva Dental in Dallas, TX, welcomes patients from North Oak Cliff, Bishop Arts District, Kessler Park, Duncanville, Grand Prairie, and nearby cities. Viva Dental in Richardson, TX, happily welcomes patients from North Dallas, Plano, Garland, and the surrounding communities. To learn more, contact the Viva Dental office nearest you. To schedule an appointment, call Viva Dental Family Dentistry at (214) 337-7800 (Dallas) or (972) 437-6000 (Richardson).