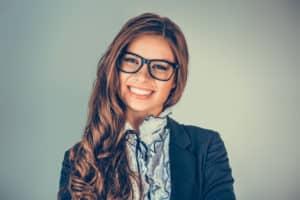 Older teens and adults with crooked teeth might bemoan their smiles for more than just their appearances, but also for the prospect of needing metal braces to correct them. The good news is that many patients can find a more discreet and convenient option by choosing Invisalign®. Consisting of a series of clear, custom-made aligners, Invisalign® offers a number of great benefits for patients who want to improve their smiles without traditional orthodontic treatment.
1. They're clear
Invisalign® is designed to gently move crooked teeth into straighter positions. But rather than brackets and wires, like traditional braces, treatment involves a series of clear acrylic aligners that fit comfortably and snugly over your teeth. The aligners are virtually invisible, so you can wear them all day without anyone noticing.
2. They're removable
For Invisalign® treatment to prove effective, you must wear the aligners for a prescribed number of hours every day. However, you can temporarily remove them to eat snacks and meals, and to brush and floss your teeth twice a day. Without brackets and wires to worry about, you can enjoy the same foods and hygiene habits as before, without to make accommodations for your braces.
3. They're easier to maintain
Patients who wear orthodontic braces must visit their dentists often to have the wires periodically tightened. With Invisalign®, routine visits to the dentist are also necessary, but less often. Also, maintenance simply involves inspecting your teeth to ensure treatment is progressing properly and changing the aligners for the next in the series.
ABOUT YOUR RICHARDSON, TX, DENTIST:
Viva Dental in Dallas, TX, welcomes patients from North Oak Cliff, Bishop Arts District, Kessler Park, Duncanville, Grand Prairie, and nearby cities. Viva Dental in Richardson, TX, happily welcomes patients from North Dallas, Plano, Garland, and the surrounding communities. To learn more, contact the Viva Dental office nearest you. To schedule an appointment, call Viva Dental Family Dentistry at (214) 337-7800 (Dallas) or (972) 437-6000 (Richardson).