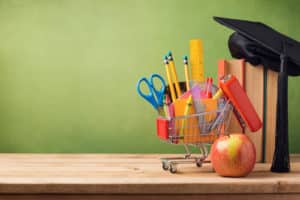 We're almost a week into August, which means for children across the nation school is about to start. As a parent, you have a lot of preparation, picking up supplies and new clothes before the first day. We want to remind parents that now is a great time to visit the dentist. We want to help you prepare your kids for the first day of the new school year.
Checkup and Cleaning
We recommend starting by scheduling a preventive visit. During this visit we will carefully examine yourchild's smile, even using advanced technology to gain a detailed took at your child's oral health. We can identify the earliest warning signs of trouble and treat issues before the school year starts. We can also provide a cleaning, which involves removing plaque buildup and polishing the teeth. A cleaning brightens smiles, freshens breath, and protects your little one's smile from decay and gingivitis.
Encourage Better Homecare
The new school year is also a time to help instill good dental habits. As part of your supply shopping, pick up a new toothbrushes and toothpaste. Consider letting your children pick a toothbrush with their favorite children's character on it. Help them brush in the morning before they go to school and again before going to bed. Also, remind your children that flossing is actually even more important than brushing and should be done before going to bed.
We also suggest offering healthier snack alternatives and encouraging your little ones to drink water instead of soda or sports drinks. Let the 2016/2017 school year be a chance to improve your child's oral health and instill good habits. If you have any questions or if you would like to schedule a visit, then please contact our office today.
ABOUT YOUR RICHARDSON, TX, DENTIST:
Viva Dental in Dallas, TX, welcomes patients from North Oak Cliff, Bishop Arts District, Kessler Park, Duncanville, Grand Prairie, and nearby cities. Viva Dental in Richardson, TX, happily welcomes patients from North Dallas, Plano, Garland, and the surrounding communities. To learn more, contact the Viva Dental office nearest you. To schedule an appointment, call Viva Dental Family Dentistry at (214) 337-7800 (Dallas) or (972) 437-6000 (Richardson).