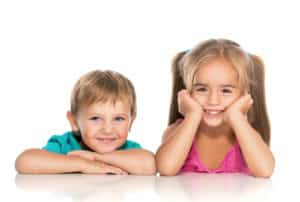 When was the last time you brought your little one to the office? Just like you, kids need to see the dentist for routine checkups, cleanings, and to address any discomfort they may be feeling. Otherwise, their oral health, and sometimes overall health, can suffer. There are a number of reasons why kids need children's dentistry. Fortunately, our office can provide treatments to improve oral health and protect little smiles from serious problems.
Why Kids Need Children's Dentistry
To Prevent Dental Anxiety: Did you know that routine visits to the dentist can help prevent dental anxiety? As children become more accustomed to the sights and sounds of the office, they are less likely to fear seeing the dentist. Kids quickly realize that the dentist is a friend, who like the family doctor, is there to help them be healthier.
To Instill Good Habits: Visiting the dentist allows the doctor to explain the best ways to brush and floss, as well as what foods/drinks to avoid to maintain a healthy smile. Over time, these visits can instill good habits, such as proper dental maintenance and regularly visiting the office.
To Avoid Premature Tooth Loss: When children develop cavities that aren't treated in time, the teeth can be prematurely lost, requiring removal to prevent the spread of infection. When this happens, the permanent teeth can erupt incorrectly, leading to misalignment.
To Keep Their Smiles Beautiful: The dentist can help keep little smiles free of plaque buildup, making sure their teeth look beautiful and bright.
To Identify Major Problems: With our routine exams we can spot problems in the earliest stages, treating them before they can progress.
If you have any questions about children's dentistry, then please contact our office today.
ABOUT YOUR RICHARDSON, TX, DENTIST:
Viva Dental in Dallas, TX, welcomes patients from North Oak Cliff, Bishop Arts District, Kessler Park, Duncanville, Grand Prairie, and nearby cities. Viva Dental in Richardson, TX, happily welcomes patients from North Dallas, Plano, Garland, and the surrounding communities. To learn more, contact the Viva Dental office nearest you. To schedule an appointment, call Viva Dental Family Dentistry at (214) 337-7800 (Dallas) or (972) 437-6000 (Richardson).