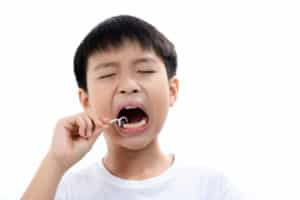 With the holiday season coming up, you and your family are going to be tempted by a number of foods high in sugar and other starches. Without preventive care, you may be more likely to develop cavities. What can you do to protect your children's smiles during the holidays? What preventive treatments can we offer?
Drinking More Water
During and after meals, encourage your child to drink more water. When they drink water, food particles are cleansed from the teeth. Since water contains no sugars or acids, this protects the teeth from damage. Otherwise, bacteria would break down the particles and sugars, increasing oral acidity and leading to plaque buildup, eventually causing decay to form. Remember, even sports drink and fruit juice can contain a surprisingly high amount of sugars and acids.
Brushing and Flossing
Your little ones should be brushing twice a day (in the morning and again at night) and flossing before bed daily. Brushing and flossing not only removes food particles, they limit the severity of plaque buildup between dental cleanings.
Preventive Treatments
We suggest bringing your child in every six months for a checkup and cleaning. The doctor can examine the teeth for signs of decay and a cleaning removes all plaque buildup, protecting the smile from decay and gingivitis.
We also offer preventive procedures designed to strengthen a tooth's defenses against harmful bacteria. We can apply fluoride to remineralize the teeth. A dental sealant can prevent food from becoming stuck between the rear molars, which kids often have trouble reaching when brushing and flossing. If you have any questions about preventing tooth decay during the holidays, then please contact our office today. We can also schedule a preventive visit for you and your children.
ABOUT YOUR RICHARDSON, TX, DENTIST:
Viva Dental in Dallas, TX, welcomes patients from North Oak Cliff, Bishop Arts District, Kessler Park, Duncanville, Grand Prairie, and nearby cities. Viva Dental in Richardson, TX, happily welcomes patients from North Dallas, Plano, Garland, and the surrounding communities. To learn more, contact the Viva Dental office nearest you. To schedule an appointment, call Viva Dental Family Dentistry at (214) 337-7800 (Dallas) or (972) 437-6000 (Richardson).