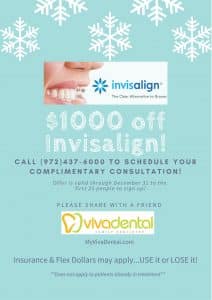 At Viva Dental Family Dentistry, we can address a wide array of oral health concerns, helping our patients enjoy healthy and beautiful smiles. To address misalignment, we offer a barely noticeable and comfortable alternative to metal braces with Invisalign. From now until the new year we're currently offering a special on our clear aligners. Ready to try our Invisalign special?
Our 2016 Special Offer
Right now, we're offering $1000 off of Invisalign treatment until the end of the year. If you have an uneven smile and have always wanted treatment, give us a call. You also have time to start treatment and use you remaining 2016 dental benefits. Why not start 2017 on the road towards a healthier and more beautiful smile?
How Does Invisalign Work?
Metal braces use brackets and arch wires to correct smiles. Invisalign offers a more esthetically pleasing option with clear plastic aligners. Worn between 20 and 23 hours each day, the aligners gently reposition the teeth. Every two weeks you will upgrade to a new set. Total treatment time typically takes a year for adults and up to 18 months for teens. You can remove them before meals or when brushing and flossing your teeth.
How Do I Get Started?
To start treatment, imply give us a call. We will schedule a consultation, where the doctor can examine your smile and discuss possible treatment options. If you have any questions about clear aligners, or if you would like to schedule a visit, let us know!
ABOUT YOUR RICHARDSON, TX, DENTIST:
Viva Dental in Dallas, TX, welcomes patients from North Oak Cliff, Bishop Arts District, Kessler Park, Duncanville, Grand Prairie, and nearby cities. Viva Dental in Richardson, TX, happily welcomes patients from North Dallas, Plano, Garland, and the surrounding communities. To learn more, contact the Viva Dental office nearest you. To schedule an appointment, call Viva Dental Family Dentistry at (214) 337-7800 (Dallas) or (972) 437-6000 (Richardson).