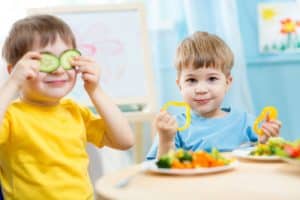 As a parent, you want to make sure your kids stay healthy, which includes keeping their smiles bright and free of oral health concerns. How do we help kids maintain healthier smiles? With a preventive approach both at home and at the dentist, you can help your little ones avoid tooth decay and other oral health issues.
How Do I Help My Kids Maintain Healthier Smiles? A Quiz
True or False: Kids need to brush twice a day.
True or False: Even children need to floss.
True or False: Children should watch what they eat.
True or False: Kids need checkups and cleanings.
Answer Key
True. Even if they only have a handful of teeth, children need to brush (or have their teeth brushed) twice a day, once in the morning and again in the evening. If all of their teeth have erupted, then they should be brushing for at least two minutes, just as you do. This is crucial for avoiding the onset of cavities.
True. Once enough teeth have erupted that they are side-by-side, your child needs to floss. You can help them in the toddler years and supervise them as they grow older to ensure they are flossing properly. Remember, floss is the only way to remove food caught between teeth.
True. Sugary foods and drinks can increase the risk of cavities forming for kids as well as adults. We suggest offering healthier alternatives, such as water, vegetables, fruit, nuts, or low-fat yogurt.
True. Every six month your little one should see the dentist for a checkup and a cleaning. A checkup allows the doctor to monitor your child's smile and address any indicators of developing problems. A cleaning helps protect the smile from the onset of cavities and/or gingivitis.
ABOUT YOUR DALLAS, TX, DENTIST:
Viva Dental in Dallas, TX, welcomes patients from North Oak Cliff, Bishop Arts District, Kessler Park, Duncanville, Grand Prairie, and nearby cities. Viva Dental in Richardson, TX, happily welcomes patients from North Dallas, Plano, Garland, and the surrounding communities. To learn more, contact the Viva Dental office nearest you. To schedule an appointment, call Viva Dental Family Dentistry at (214) 337-7800 (Dallas) or (972) 437-6000 (Richardson).