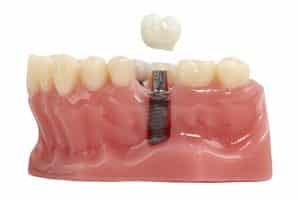 We lose teeth for a variety of reasons, including untreated infection, advanced gum disease, or even an injury. When you lose a tooth, serious complications can develop, some of which can't be addressed with traditional dental prosthetics. Fortunately, we can help restore your smile with a dental implant.
Facts About Dental Implants
They can Last a Lifetime: On average, a bridge can last for up to 15 years and a denture for up to 10. This is because tooth loss causes the body to stop supplying surrounding jawbone tissue with doses of essential nutrients, causing the bone tissue to dissolve and changing the shape of the mouth. However, implants stimulate jawbone growth, preening loss of density and allowing the prosthetic to last.
Implants Look Natural: After we place the implant, we top the new tooth with a lifelike dental crown. The restoration mimics the appearance of a natural tooth and is designed to blend seamlessly with your smile.
They Prevent Loss of Jawbone Density: The implant is recognized by the body as a natural tooth root, ensuring the flow of nutrients and preventing facial collapse, which can lead to a aged appearance.
You can Eat as You Did Before You Lost Your Teeth: With dental implants, you have a strong and secure new tooth. No need to worry about slippage, instead you can eat a large variety of foods, including the hard foods you had to avoid after losing one or more teeth.
We can Use Them to Address Multiple Missing Teeth: We don't just replace a tooth at a time. Instead, we can place multiple implant posts into the jawbone. We can then create and a prosthetic that snaps onto them. The result is a fixed denture that never slips and can last a lifetime.
ABOUT YOUR DALLAS, TX, DENTIST:
Viva Dental in Dallas, TX, welcomes patients from North Oak Cliff, Bishop Arts District, Kessler Park, Duncanville, Grand Prairie, and nearby cities. Viva Dental in Richardson, TX, happily welcomes patients from North Dallas, Plano, Garland, and the surrounding communities. To learn more, contact the Viva Dental office nearest you. To schedule an appointment, call Viva Dental Family Dentistry at (214) 337-7800 (Dallas) or (972) 437-6000 (Richardson).