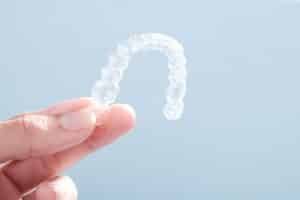 Having a smile with crooked or crowded teeth can be embarrassing. Instead of going through life hiding your smile, why not seek orthodontic treatment? Unfortunately, many teens and adult are not eager to wear metal braces for 18 months to 2 years. However, we do offer an alternative to metal braces. Do you qualify for Invisalign?
Try Our Invisalign Quiz
True or False: Can teens undergo treatment?
True or False: Will adults be able to wear clear aligners?
True or False: How long does treatment last?
True or False: What benefits do clear aligners offer?
Answer Key
True. Yes! The aligners can correct smiles for teens and younger children (in a case-by-case basis). We will look at your smile to assess the extent of misalignment, as well as the possible causes. These factors will help our team decide if you will benefit from treatment with Invisalign.
True. Adults can definitely benefit from treatment. Many prefer clear aligners because they worry about the impact metal braces will have on their appearance. When worn, the aligners are practically invisible, which means then a preferred choice for people looking to improve their oral health.
True. The exact time required to correct your smile with vary and depend on several different factors. However, on average adults require about a year. Teens and younger children may need up to 18 months, as their mouths are still growing and developing. The clear aligners will need to be worn daily for a minimum of 20 to 23 hours to see maximum results in the recommended timeframe.
True. They are barely noticeable, they fit comfortably, and they can be removed before you eat or when you want to brush and floss your teeth.
Interested in Invisalign?
We can use Invisalign to help you enjoy a more even smile. Our Dallas, TX office welcomes patients from North Oak Cliff, Bishop Arts District, Kessler Park, Duncanville, Grand Prairie, and nearby cities. Our Richardson, TX office welcomes patients from North Dallas, Plano, Garland, and the surrounding communities. To schedule an appointment, call Viva Dental Family Dentistry at (214) 337-7800 (Dallas) or (972) 437-6000 (Richardson).