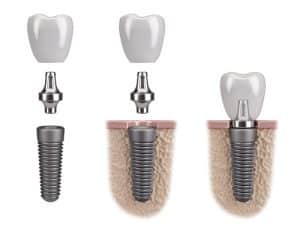 Tooth impacts much more than just your appearance. In fact, missing teeth can lead to a host of serious oral health complications. To help preserve our patients' smiles and facial structure, we offer multiple options for replacing lost teeth. Which one is right for you? How exactly will tooth loss impact your smile?
Frequently Asked Questions About Replacing Lost Teeth
Question: What issues can develop as a result of tooth loss?
Answer: Losing your teeth can mean the loss of jawbone density. Since the body suspends the flow of nutrients to areas of the jaw lacking a tooth root, you can experience further tooth loss and in severe cases, facial collapse. Other complications include misalignment and a higher risk of TMJ disorder and bruxism.
Question: How does a bridge work?
Answer: A bridge contains between one and three replacement teeth with crowns on each end. The crowns are then placed on the prepared teeth on either side of the gap in your smile. The bridge can last between 10 and 15 years, addressing minor tooth loss.
Question: Do you offer dentures?
Answer: We actually offer two different options. Partial dentures can replace multiple lost teeth, even if they are spread out across the arch. The prosthetic is held in place with metal clasps that attach to the remaining natural teeth. A full denture replaces every tooth on one or both arches. Held in place with natural suction, they have a full row of lifelike teeth and an acrylic base designed to look like gum tissue.
Question: Can I receive a dental implant?
Answer: A dental implant is inserted into the jawbone, acting as a new tooth. In addition to preventing facial collapse, this also allows the tooth to potentially last a lifetime.
Need Help Replacing Lost Teeth?
We can help you enjoy a whole and beautiful smile again with a lifelike dental prosthetic. Our Dallas, TX office welcomes patients from North Oak Cliff, Bishop Arts District, Kessler Park, Duncanville, Grand Prairie, and nearby cities. Our Richardson, TX office welcomes patients from North Dallas, Plano, Garland, and the surrounding communities. To schedule an appointment, call Viva Dental Family Dentistry at (214) 337-7800 (Dallas) or (972) 437-6000 (Richardson).