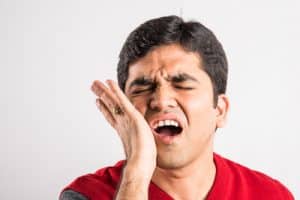 Have you ever had a dental emergency? Any injury or pain related to your teeth or gums is considered a dental emergency. If you encounter such a situation, we advise you to call our team as soon as possible and we will fit you in. We can offer cosmetic and restorative treatments to address damaged or even knocked out teeth, protecting your smile from discomfort or other serious complications.
Try Our Quiz on Emergency Dentistry
True or False: If the injury won't stop bleeding, proceed to an emergency room.
True or False: Don't use anything other than floss to remove an object stuck between your teeth.
True or False: If you knock out a tooth, bring it with you.
Answer Key
True. If you have a serious injury that won't stop bleeding, or if you have broken or severely injured your jaw, then please go to the emergency room right away.
True. By placing the cold compress against the side of the face you can reduce swelling and ease discomfort. You can also use a piece of gauze to stem any bleeding from the area of the damaged tooth.
True. If an object becomes trapped between your teeth never use anything other than floss to try and remove it. If floss fails to address it, contact our team. If you use anything else, you run the risk of severely damaging your gums.
True. If a tooth is knocked out, then bring it with you to the office in a glass of milk or salt water. Don't pick it up by the root, only by the crown.
We're proud to offer emergency dental care to our patients. If you experience an emergency situation, please contact our team immediately. Viva Dental in Dallas, TX, welcomes patients from North Oak Cliff, Bishop Arts District, Kessler Park, Duncanville, Grand Prairie, and nearby cities. Viva Dental in Richardson, TX, happily welcomes patients from North Dallas, Plano, Garland, and the surrounding communities. To schedule an appointment, call Viva Dental Family Dentistry at (214) 337-7800 (Dallas) or (972) 437-6000 (Richardson).