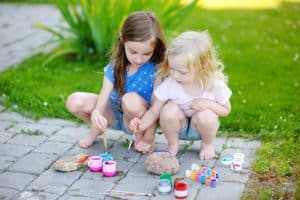 For many communities, summer break begins at the end of next week or the week after. Then, your little ones will be home for a lengthy break! A sudden lack of responsibility and homework can be cause for celebration, and for many kids, a chance to indulge their sweet tooth. Fortunately, there are steps you can take to help protect little smiles over summer break.
Try Our Quiz on Protecting Little Smiles Over Summer Break
True or False: Kids need checkups and cleanings.
True or False: They should cut back on sugary snacks and drinks.
True or False: Try to encourage outdoor exercise.
True or False: They still need to brush and floss.
Answer Key
True. Like adults, every six months kids should under a routine checkup and cleaning. The checkup allows the doctor to make sure their smiles are healthy and free of disease/decay. A cleaning removes plaque and tartar, protecting the teeth and gums from cavities, gingivitis, and other oral health issues.
True. During the summer, try to encourage your children to drink water instead of sodas or energy drinks. Also, be aware that sports drinks, while boasting the ability to keep kids hydrated, also contain enough of an acidic content to increase the chances of decay.
True. When kids play outdoors, they have less time to veg and consume sugar snacks and drinks. They may also drink more water, which not only keeps them hydrated, but can also contains fluoride, (at least, if the water is from the tap) which helps reduce the risk of tooth decay.
True. Your children should be brushing once in the morning and again in the evening. They also need to floss every night before going to bed.
Do You Have Questions About Children's Dentistry?
We can help your little ones maintain a healthy smile with routine care and education. Our Dallas, TX office welcomes patients from North Oak Cliff, Bishop Arts District, Kessler Park, Duncanville, Grand Prairie, and nearby cities. Our Richardson, TX office welcomes patients from North Dallas, Plano, Garland, and the surrounding communities. To schedule an appointment, call Viva Dental Family Dentistry at (214) 337-7800 (Dallas) or (972) 437-6000 (Richardson).