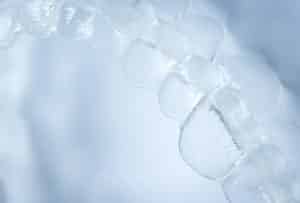 We recommend orthodontics to address misalignment and help you enjoy a straighter smile. In addition to the esthetics of your smile, orthodontics can help improve overall oral health as well. Instead of metal braces, we're proud to offer our patients clear orthodontics using the Invisalign system.
Try Our Clear Orthodontic Quiz
True or False: Your aligners will be barely visible.
True or False: We can help teens and adults.
True or False: You can remove the aligners before you eat.
Answer Key
True. Instead of using metal brackets and wires, we use a series of aligners made from clear plastic. When worn, the aligners are practically invisible. To create them, we first take detailed impressions of your smile. An Invisalign lab will use the materials to create the aligners, which you will wear for between 20 and 23 hours. Every two weeks, you will upgrade to a different set in the series as your teeth are gradually repositioned!
True. Both teens and adults can benefit from the aligners. For teens, treatment tends to take about 18 months. Adults typically wear the aligners for about a year. However, the exact time will depend on the severity of your misalignment.
True. Being able to remove them means you don't have to avoid certain foods, as you would with braces. In addition, you can remove them before you brush and floss your teeth, which makes caring for your smile during the treatment period much easier. Finally, you can also remove them for special occasions, such as graduations. If you have any questions about our clear aligners or would like to try Invisalign, then please contact our office today.
Do You Need Smile Correction?
We can help you obtain a straighter smile with our clear aligners. Our Dallas, TX office welcomes patients from North Oak Cliff, Bishop Arts District, Kessler Park, Duncanville, Grand Prairie, and nearby cities. Our Richardson, TX office welcomes patients from North Dallas, Plano, Garland, and the surrounding communities. To schedule an appointment, call Viva Dental Family Dentistry at (214) 337-7800 (Dallas) or (972) 437-6000 (Richardson).