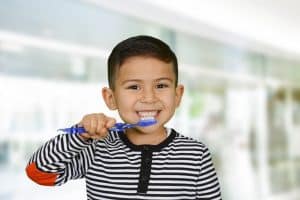 Children, even toddlers and babies, are susceptible to the onset of tooth decay. Just as with adults, lack of treatment can mean serious discomfort and the risk of premature tooth loss due to infection. Fortunately, there are steps you can take to help your kids avoid cavities!
Helping Your Children Avoid Cavities
Make Sure They Brush: Each day, your kids should brush in the mornings and again before they go to sleep. Like you, they should be brushing for two minutes each time. Doing so can help remove food particles and limit the severity of plaque buildup, safeguarding smiles against cavities.
They Should Floss Daily: While brushing can remove food particles, the toothbrush's bristles often can't reach between teeth. Kids need to floss each night before bed. When they're young, you can assist them with a floss pick. Flossing is vital for avoiding tooth decay and gingivitis.
See the Dentist Every Six Months: Every six months kids need a checkup and cleaning. A checkup allows our team to monitor your child's smile and treat developing issues in the earliest stages. We can also perform a cleaning, which removes plaque and keeps the teeth bright and healthy.
Enjoy Healthier Snacks: Instead of sugary candy and snacks, offer kids fresh fruit and vegetables, nuts, or dairy products, such as cheese or low-fat yogurt.
Drink More Water: Soda, energy drinks, and sports drinks can all increase the risk of tooth decay forming. Instead, try drinking more water, which contains no acids or sugars and can actually help cleanse the mouth of food particles and bacteria. If you have any questions about avoiding decay or protecting little smiles, then contact our team today.
Do You Have Questions About Preventing Decay?
Our team can help you and your children enjoy healthy smiles, while also limiting your risk of developing cavities. Our Dallas, TX office welcomes patients from North Oak Cliff, Bishop Arts District, Kessler Park, Duncanville, Grand Prairie, and nearby cities. Our Richardson, TX office welcomes patients from North Dallas, Plano, Garland, and the surrounding communities. To schedule an appointment, call Viva Dental Family Dentistry at (214) 337-7800 (Dallas) or (972) 437-6000 (Richardson).