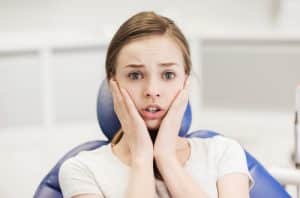 Dental anxiety refers to a fear or serious apprehension of visiting the dentist. If you have dental anxiety, then you may put off even minor preventive visits, such as checkup and cleanings. As you grow older, this can have an increasingly negative impact on your overall oral health. Fortunately, we can help with our dental sedation options.
Frequently Asked Questions About Dental Anxiety
Question: What happens if I don't see the dentist?
Answer: Without routine visits, common oral health issues can arise, such as tooth decay and gingivitis. Soon, these minor issues can morph into major concerns, such as dental infection and gum disease, increasing the risk of serious discomfort and even adult tooth loss.
Question: Can you offer a calming solution?
Answer: Yes! We have sedation dentistry, which is used to help anxious patients enter a calm and relaxed state during their visit. They will remain conscious and able to respond to the dentist, but will have little to no memory of the procedure.
Question: How does nitrous oxide work?
Answer: Nitrous oxide, also known as laughing gas, is administered through a mask over the nose. The gas helps the patient enter a more relaxed state, the effects take placing almost immediately. In addition, the effects also wear off almost as soon as the procedure ends. In fact, some patients can return to work or school afterward.
Question: Who benefits from oral sedation?
Answer: A more serious form of relaxation, this can address serious anxiety and is used for more substantial procedures. Taken as a pill prior to the procedure, the sedation will take time to wear off, so you will need a friend or family member to bring you home.
Do You Need Help with Dental Anxiety?
Our team will work with you to ensure you feel comfortable during your visit. Our Dallas, TX office welcomes patients from North Oak Cliff, Bishop Arts District, Kessler Park, Duncanville, Grand Prairie, and nearby cities. Our Richardson, TX office welcomes patients from North Dallas, Plano, Garland, and the surrounding communities. To schedule an appointment, call Viva Dental Family Dentistry at (214) 337-7800 (Dallas) or (972) 437-6000 (Richardson).