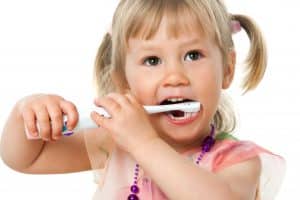 Like you, your children need to take good care of their smiles. After all, they are just as susceptible to tooth decay and dental infection as an adult. But are there ways to make dental care fun for children? We believe parents and yes, even the dentist, can work together to make children's dental care a little more enjoyable!
Try Our Quiz on Making Dental Care Fun for Children
True or False: Let them pick out a tooth brush.
True or False: You should make sure they're brushing for two minutes!
True or False: We offer fun and calming amenities for kids.
True or False: There are fun and healthy alternatives to candy.
Answer Key
True. Kids love having the illusion of choice, so feel free to take advantage of that! Show them the children's toothbrushes at the store and let them pick an age-appropriate one with their favorite character on them. You can also purchase toothpastes with characters on them as well.
True. When they're very young, you can make sure they're brushing for two minutes because you're helping. As they get older, you may need to monitor them. Other options include toothbrushes that light up or play music for the minimal amount of time they need to brush. You can also find fun apps that help kids time how long they clean their teeth.
True. To help kids relax, we have a reading room with books and video games. There are TVs in the exam rooms with wireless headphones kids can use.
True. The biggest risk to kids' smiles are sugary snacks, which can increase the risk of decay. Right now, parents and dentists alike are gearing for the double whammy of Halloween and the holiday season. Try offering kids fun healthy alternatives, such as nuts, low-fat yogurt, and cheeses.
Do You Have Questions About Pediatric Dentistry?
We can provide a full range of dental care options to help little smiles stay health and beautiful. Our Dallas, TX office welcomes patients from North Oak Cliff, Bishop Arts District, Kessler Park, Duncanville, Grand Prairie, and nearby cities. Our Richardson, TX office welcomes patients from North Dallas, Plano, Garland, and the surrounding communities. To schedule an appointment, call Viva Dental Family Dentistry at (214) 337-7800 (Dallas) or (972) 437-6000 (Richardson).