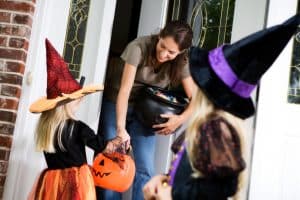 In just a couple weeks, children across the country will be donning costumes and going door-to-door to collect candy. While we all enjoy the sights and sounds of Halloween, we also recognize that candy can lead to a greater risk of tooth decay. Fortunately, there are a few steps you can take to create a smile-healthy Halloween, such as offering alternatives to Halloween candy.
Candy and Tooth Decay
How does candy lead to cavities? Well, when kids consume candy, sugar coats the teeth. Bacteria then feed on the sugar particles, in the process of breaking down the particles oral acidity rises and plaque buildup accumulates on the teeth, which weakens tooth enamel. Soon, there is a greater risk of cavities forming. To limit the risk, we urge parents to limit how much candy kids can eat. You can also make sure they eat them with meals, so they can wash them down with a glass a water (which also helps cleanse the teeth).
Fun Alternatives
Instead of candy, why not offer small toys or trinkets, such as party favors? They can be purchased in large bags at a local big box store and are relatively inexpensive. You can also give away small packages of crayons, or our favorite, small toothbrushes and toothpastes. Temporary tattoos and stickers also make run (and sugar-free) treats.
Halloween Buyback
Remember that each year we offer a Halloween buyback program! We will pay a dollar per pound of candy. We then donate the candy to a program like Operation Gratitude, which then delivers then treats to soldiers serving overseas. If you have any questions about our program, or about preventing cavities, then please contact our office today.
Do You Have Questions About Tooth Decay?
Our team can take steps to safeguard your smile against cavities and help you enjoy a lifetime of optimal oral health. Our Dallas, TX office welcomes patients from North Oak Cliff, Bishop Arts District, Kessler Park, Duncanville, Grand Prairie, and nearby cities. Our Richardson, TX office welcomes patients from North Dallas, Plano, Garland, and the surrounding communities. To schedule an appointment, call Viva Dental Family Dentistry at (214) 337-7800 (Dallas) or (972) 437-6000 (Richardson).