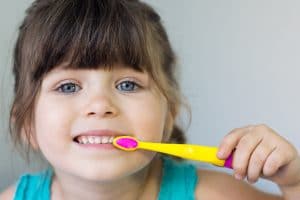 Most parents recognize that teaching their children to care for their teeth at home is essential for the good of their long-term oral health. However, along with good dental hygiene skills, children also need routine care from their dentist to keep their young smiles healthy well into adulthood. Today, we answer a few common questions about keeping little smiles healthy, and what makes children's dental care slightly different then the care you receive as an adult.
What makes children's dentistry different?
Children's dental care is similar to adult dental care in that the main focus is prevention. For adults, preventive care helps them avoid cosmetic issues and issues that can lead to tooth loss, such as severe tooth decay and gum disease. For children, it helps them maintain the health and integrity of their primary (baby) teeth, which pave the way for their permanent adult teeth. Therefore, children's dentistry is a vital part of setting the stage for your child's future dental health.
How early should my child visit the dentist?
In their earliest years, children don't typically require the regular care that their parents and older siblings need. However, when their first teeth begin to appear, usually by their first birthday, children should attend an initial visit to ensure that their tooth eruption is on the right track. By the age of three years old, you should begin to bring your child in for regular checkup and cleaning appointments to further ensure the proper growth of their teeth and oral structures.
When are fluoride and dental sealants a good idea?
In addition to regular preventive visits, some children may also benefit from fluoride treatment and/or dental sealants, which are designed to boost your child's ability to prevent cavities. For instance, fluoride bonds to the enamel that protects their teeth, reducing the risks of oral bacteria infecting them. For further protection, dental sealants can be applied to create a barrier between your child's tooth enamel and the food particles and oral bacteria that form plaque.
Schedule a Dental Appointment for Your Child
It's never too early to get your child started on a path to keeping their smiles beautiful and healthy for life. To schedule an appointment, call Viva Dental Family Dentistry at (214) 337-7800 (Dallas) or (972) 437-6000 (Richardson).