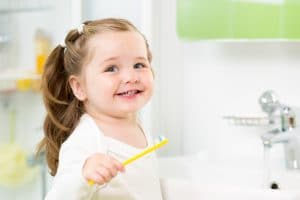 Often, when we break the news about a cavity, a child or parent quickly chimes in saying, "But I brush twice a day!" Yes, brushing twice a day is important, but brushing twice day CORRECTLY is even more important. In today's blog, we're going to look at the correct way for kids to brush their teeth.
Brushing The Right Way
Like you, your children should be brushing their teeth twice a day, once when they wake up and again before going to bed. We suggest using an age-appropriate toothbrush with soft bristles. Better yet, the toothbrush packaging should have the American Dental Association (ADA) seal of approval. Each session should last at least two minutes. Since for a child that can seem like an eternity, you can purchase a small hourglass, use a timer on your phone, or download a fun app that keeps the time while also showing a video or playing a song.
Kids should initially hold the toothbrush at a 45-degree angle to reach the fronts and the sides. They should brush in a circle motion when cleaning the front of the teeth, instead of just side-to-side. You should monitor younger children to ensure they're cleaning correctly. Remember, brushing teeth is necessary as soon as teeth arrive. Your infants and your toddlers will need your assistance!
Sonicare Kids and Adult Electric Toothbrushes
Kids can use a manual or an electric toothbrush, as long as their brushing the proper way. However, children may enjoy an electric one and we now carry Sonicare Kids electric toothbrushes (as well as adult ones). If you do purchase one from our office, you can get an extra extended warranty, and the toothbrush can be purchased with an HSA account (but be sure to do so before the end of the year, when those benefits expire). The toothbrush also includes a free app, like the one we discussed above, to make the process fun and engaging.
Do You Have Questions About Proper Brushing?
We can help you and your children enjoy improved oral health with routine preventive care. To schedule an appointment, call Viva Dental Family Dentistry at (214) 337-7800 (Dallas) or (972) 437-6000 (Richardson).