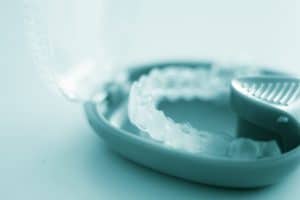 People are always looking for a more affordable alternative, in housing, food, and even in dental care. The trend of do-it-yourself braces has led to well-documented horrors, including damaged tissue and jawbones. But now, there are companies offering mail-order aligners, in which people take their own impressions and pictures. While this may seem like a great way to cut costs, there are dangers to homemade aligners.
The Dangers of Homemade Dentistry
With these kits, you receive tools needed to take impressions of your teeth. You send these back, along with photographs of your face, and then later receive a set of aligners to wear to straighten your teeth. However, at no point is a dentist or orthodontist monitoring you. If you don't take proper impressions, or if the aligners are ill-fitting, then you can find yourself with crooked teeth, along with damaged roots and gums. You still end up in the dentist's office, only now with serious (and costly) repairs that need to be done before you can even consider reposing your teeth.
Professional Orthodontics
If you come to our office, our team will create proper impressions, and also take images of your teeth and digital x-rays. We send the impressions to a professional Invisalign lab. As you wear the aligners and upgrade to new sets, you have periodic visits with our team. We monitor your smile's development to ensure your teeth are moving properly and no damage is happening below the gum line. At the end of the quoted time, if you wore them correctly, you can enjoy a more even smile.
Invisalign®
Our clear aligner system, if you haven't already guessed, is Invisalign. We have years of experience with the clear aligner process, and are ready to help teens and adults develop more even and beautiful smiles. If you have any questions, please give us a call! We can offer a comfortable and professional experience, something not available with do-it-yourself kits and homemade aligners.
Do You Need Clear Aligners?
Our team can help correct your misalignment with Invisalign clear aligners. To schedule an appointment, call Viva Dental Family Dentistry at (214) 337-7800 (Dallas) or (972) 437-6000 (Richardson).