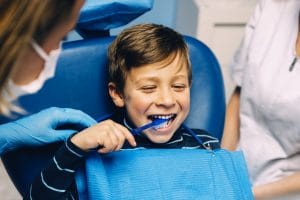 While most parents understand that a routine exam is good for little smiles, some seem surprised that we also recommend cleanings. However, since plaque can form on teeth in both kids and adults, a cleaning is necessary for patients of all ages. Otherwise, there is an increased risk of oral health problems.
What Does a Cleaning Do?
In the procedure, we use an ultrasonic scaling device or a manual tool to remove plaque buildup from the teeth. Plaque, which can form when bacteria break down food particles, coat the teeth and increase the risk of tooth decay, as well as gingivitis in older children. Afterward, we polish the tooth for a more natural appearance and a smoother finish. The procedure also helps brighten teeth and freshen breath.
How Often Should A Child Have One?
Children should have one every six months. These routine visits help remove plaque and tartar, protecting teeth from the onset of cavities. In addition, these visits also help children become accustomed to the dentist's office, which reduces the risk of dental anxiety later in life. Finally, since we perform an exam in each visit, we can also uncover potential problem in the earliest stages, treating them before they require more extensive intervention later in life. Preventive dentistry is essential for maintaining optimal oral health.
Protecting Little Smiles at Home
While cleanings are important, children still need to be brushing their teeth twice a day and flossing every night before bed. For younger children, you may need to help them. As they grow older, you may still monitor them to ensure they are brushing and flossing properly. Remember, they should brush for about two minutes each session and floss on either side of every tooth. We can provide details on proper brushing and flossing for children, helping them maintain a healthy smile for years to come.
Does Your Little One Need a Checkup and Cleaning?
We can help your child enjoy a healthier smile with our comprehensive approach to children's dentistry. To schedule an appointment, call Viva Dental Family Dentistry at (214) 337-7800 (Dallas) or (972) 437-6000 (Richardson).