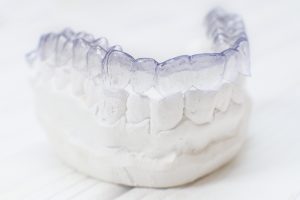 At one time, correcting misalignment meant you needed to wear metal orthodontics. For some, this was enough to risk the health complications of crooked or crowded teeth. However, we can help you enjoy a more even smile using practically invisible Invisalign® aligners.
What Happens When You Have an Uneven Smile?
How does misalignment impact your smile's health? Well, uneven teeth often make thorough brushing and flossing difficult, increasing the risk of tooth decay and gum disease. Misalignment also places quite a bit of pressure on the jaw joints which makes the onset of TMJ disorder and bruxism (persistent teeth grinding/clenching) more likely. Finally, you may feel embarrassed about your smile's appearance, taking steps to hide it from the world and having a negative impact on your quality of life.
The Invisalign® Difference
With metal braces, brackets and arch wires are used to gradually correct the smile over the course of two years or more. While this does address misalignment, we find that patients prefer a barely visible alternative. With Invisalign, we take impressions and images of the smile, which will be used to create a series of custom-made aligners. The aligners then correct the smile over the course of a year (or up to 18 months for those with more severe misalignment). Patients avoid the gum and cheek irritation so common with braces, and can also remove the aligners before meals, when brushing or flossing the teeth, or for special occasions.
What to Expect
Patients will need to wear them for between 20 and 23 hours per day. About once every two weeks, the patient will upgrade to the next set of aligners in the series. As long as the aligners are worn as prescribed, they can correct the smile in the time frame the dentist quotes. If you have any questions about Invisalign, then contact our office today!
Do You Have Questions About Clear Aligners?
We can use Invisalign to correct misalignment using clear, barely visible aligners. To schedule a consultation, call the Viva Dental Family Dentistry office nearest you at (214) 337-7800 (Dallas) or (972) 437-6000 (Richardson).