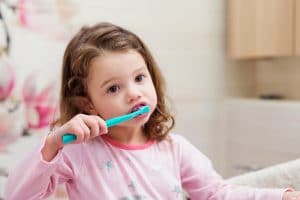 Just like you, your little ones need to have their teeth brushed and flossed daily. Otherwise, decay and other oral health issues can lead to discomfort and serious complications. In today's blog, we're going to discuss the proper ways for kids to brush and floss, as well as ways to make caring for smiles fun.
Choosing a Toothbrush
First, why not let your child pick his or her toothbrush? There are a number of options in stores with the American Dental Association seal of approval that also have fun cartoon characters on them. In addition, you pick up a Sonicare eclectic toothbrush for kids at our office. Since brushing teeth should take two minutes each session, which can seem like a very long time to adults, let alone ids, we can help you choose fun apps and games to make the process more enjoyable and let children know when they should stop cleaning their teeth.
As for toothpaste, we recommend purchasing an option that has the American Dental Association seal of approval on the packaging. Also, try to avoid whitening toothpastes as they can contain abrasive ingredients that actually have a negative impact on your tooth structure.
Cleaning Teeth Daily
Kids should brush their teeth twice a day, once when they wake up and again before going to bed. For babies, you can clean their teeth with a cloth or piece of gauze. You can assist your toddlers with age-appropriate toothbrushes and monitor your older kids to make sure they're cleaning their teeth properly. Kids also need to floss each night before bed as well.
Seeing the Dentist Every Six Months
In addition to homecare, we urge you and your little ones to see us every six months for checkup and cleaning. We can monitor your oral health and perform a cleaning to help reduce the risk of decay and gingivitis.
Do You Have Questions About Children's Dentistry?
We can help you and your family maintain a healthy smile. To schedule a consultation, call the Viva Dental Family Dentistry office nearest you at (214) 337-7800 (Dallas) or (972) 437-6000 (Richardson).