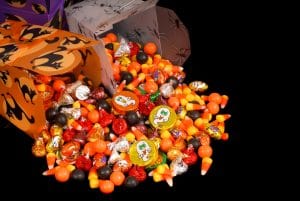 With Halloween just two weeks away, now is the perfect time to talk about our Candy Buyback Program! Families can bring their Halloween treats to our Richardson or Dallas, TX, office locations, where we will buy the candy for $1 a pound. You help protect your children from cavities, while also supporting Operation Gratitude!
Candy and Tooth Decay
When we consume candy, sugar parties remain on or between the teeth. As bacteria break down the particles, the levels of oral acidity increase and plaque accumulates on the teeth, weakening tooth enamel and increasing the risk of tooth decay (as well as gingivitis). We urge parents to limit how much candy their children consume each day, and to also make sure they brush and floss daily (and properly). A routine dental cleaning will also help remove plaque and safeguard smiles both young and old against tooth decay, as well as other common oral health issues.
Operation Gratitude (and a Raffle!)
We will weigh your candy and pay $1 per pound. We then ship the candy we purchase to Operation Gratitude, which gives the sweets to our troops overseas. Participants will also be entered into a raffle to win a Philips Kids Sonicare Toothbrush, a $70 value!
Where to Go
You can bring your candy to our Dallas location on November 1st from noon until 8pm. Our Dallas office is located at 1050 Westmoreland Road, Suite 432B, Dallas, TX 75211. We're also offering the buyback program at our Richardson location on November 2nd from 9am until 6pm. Our Richardson office is located at 722 West Spring Valley Road, Dallas, TX 75080. If you have any questions about the program, or if you would like to schedule a visit for you and your family, then contact us at the numbers below!
Do You Have Questions About Our Buyback Program?
Our team wants to safeguard little smiles while also ensuring Halloween remains a fun holiday. For more information on our program, schedule a consultation by calling the Viva Dental Family Dentistry office nearest you at (214) 337-7800 (Dallas) or (972) 437-6000 (Richardson).