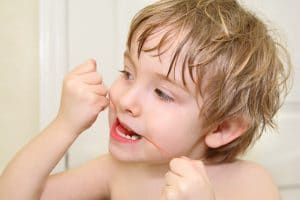 Poor dental health impacts your children in a number of ways. One of the more common oral health concerns children face is tooth decay. In today's blog, we're looking at what our Dallas, TX, patients can do to protect their children from the onset of cavities.
What Causes a Cavity?
Cavities form when our outer tooth enamel, which protects the teeth from bacteria, becomes compromised. Injuries and poor oral hygiene could weaken or damage enamel, allowing bacteria to reach the inner dentin. The resulting cavity may lead to tooth sensitivity and toothaches. As the cavity continues to grow, the child may develop infections and greater levels of discomfort. For some, premature tooth loss may occur, impacting the alignment of the smile.
Healthy Snacks and Good Habits
Sugary snacks and drinks, which leave behind particles for bacteria to break down, could lead to a greater risk of tooth decay. So, try to offer your child healthier snack options, such as fruits, vegetables, nuts, and low-fat yogurt. Instead of drinking sodas, energy drinks, or sports drinks, encourage your children to consume more water. Healthy foods and drinks help safeguard the smile from cavities, especially in the holiday season, when we all seem to inundated with sugary treats!
Regular Office Visits
We can help protect your children from cavities with preventive treatments, such as fluoride varnish and dental sealants. We also have silver diamine fluoride, which stops cavities in the early stages and prevents them from growing worse. For children with decay, we prescribe lifelike dental fillings to restore the health and appearance the tooth. We also help instruct children in proper brushing and flossing methods, which limit the risk of decay in between routine checkup and cleaning visits. If you have any questions, or if you want to schedule a visit for your little ones, then contact our team today.
Do You Have Questions About Tooth Decay Prevention?
If you want to safeguard your family from tooth decay, then let us help. For more information, schedule a consultation by calling the Viva Dental Family Dentistry office nearest you at (214) 337-7800 (Dallas) or (972) 437-6000 (Richardson).