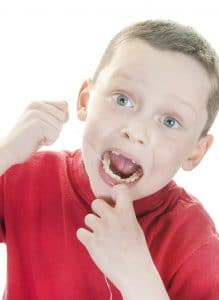 With proper care, children in Richardson and Dallas, TX, can avoid the onset of dental cavities. In today's blog, we're going to look at the causes of tooth decay and recommend a few tips for keeping smiles healthy and strong. We're also going to look at our Give Kids A Smile event, which takes place tomorrow in our Richardson office.
Give Kids A Smile
Every year our office takes part in Give Kids A Smile, an event in which we offer free preventive and general care to children in need. Tomorrow, the event takes place from 9am until 6pm at our Richardson, TX office, located at 722 West Spring Valley, Road. We offer exams, cleanings, fluoride treatments and dental sealants, x-rays, an oral hygiene education to children 12 and under for free! Each year our spaces fill up quick, so if you missed out remember that we'll be having this event next February as well!
Homecare
Just like you, children need to have their teeth cleaned from home every day. As soon as teeth begin to erupt, kids need to clean them when they wake up and again before going to bed. Be sure your child uses an age-appropriate toothbrush and remember that toothpaste with fluoride shouldn't be used until your little one is three. Be sure you monitor them to make sure they're brushing properly!
Children also need to begin flossing a soon as possible, since flossing removes the bits of food a toothbrush cannot. For young kids, a floss pick may be easier to use. Routine care helps reduce the risk of tooth decay and gingivitis, helping your little one enjoy optimal oral health!
Checkups and Cleanings
Kids also need to see us for routine visits. The first visits should happen when the first baby tooth arrives, usually around age one. After that, we will suggest a visit every six months for a checkup and cleaning. The checkup allows our team to monitor your little one's smile for signs of trouble, such as decay or misalignment. The cleaning helps prevent cavities, while also ensuring your child enjoys fresh breath and a bright smile. These visits also enable our team to instill good dental habits, discuss proper brushing and flossing, offer healthy snack ideas, and routine visits have been shown to even reduce dental anxiety. If you have any questions about protecting kids from cavities, then please contact our team today!
Help Your Child Stay Cavity-Free
If your little one complains of an aching or sensitive tooth, then let us know right away. For more information on our approach to children's dentistry, schedule a consultation by calling the Viva Dental Family Dentistry office nearest you at (214) 337-7800 (Dallas) or (972) 437-6000 (Richardson).