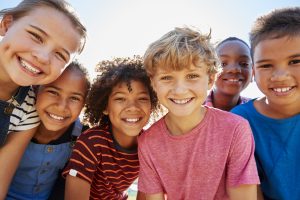 Each year, dental professionals from across the country celebrate Give Kids A Smile, a special event offering free dental care to those in need. We're so proud to once again participate in this event, and will be providing free care to children on February 22nd from our office in Richardson, TX. In today's blog, we're going to look at the care we're providing, and urging parents to sign their little ones up before available spaces fill up!
Give Kids A Smile
Our Give Kids A Smile Event will take place on February 22nd from 9am until 6pm at our Richardson, TX, office on 722 West Spring Valley Road. The event is open to children ages 12 and under. Treatments offered will include:
Free Dental Exams
Oral Hygiene Education
Free Dental X-Rays and Cleanings
Free Dental Sealants and Fluoride Treatments
Space is of course limited, so contact our office as soon as possible to reserve a spot for your child. You can reach us at our Dallas or Richardson office by calling the numbers below. We hope to see you and your family there!
The Importance of Routine Care
When a child receives routine care, this helps strengthen oral health and limit the risk of developing serious issues, such as tooth decay and gingivitis. An exam allows us to monitor a child's smile as it grows and changes, while also watching for signs of trouble, catching many issues in the earliest possible stages. A cleaning removes plaque buildup, something brushing and flossing alone cannot do, which protects teeth from cavities.
We also offer preventive treatments to help protect little smiles from cavities. For example, as part of our Give Kids A Smile Event, we will be offering fluoride treatments and dental sealants. A fluoride treatment involves applying a special varnish to the teeth that strengthens outer tooth enamel. A dental sealant is placed over the hard-to-reach back teeth, preventing food from becoming trapped between them and leading to decay.
Brushing and Flossing at Home
Following your office visit, be sure you help your little take care of his or her smile from home. Each day, kids need to brush their teeth twice for two minutes, using a fluoridated toothpaste each time. Flossing is also vital for removing food particles and reducing the risk of cavities and gingivitis. If you have any questions about children's dentistry, homecare, or about this event, please don't hesitate to give our team a call!
Let Give Your Child A Smile on February 22nd
Spaces fill up fast, so contact our team today to reserve one. For more information on the event, or our children's dental procedures, schedule a consultation by calling the Viva Dental Family Dentistry office nearest you at (214) 337-7800 (Dallas) or (972) 437-6000 (Richardson).