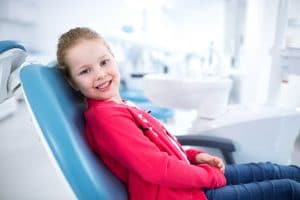 Children need dental care to enjoy healthy smiles and avoid serious complications. Parents often contact us wondering when their little ones should actually see their Richardson, TX, dentist. In today's blog, we're looking at when children need to see the dentist and what happens during these routine visits. With routine care, your child could enjoy improved oral health and brighter smiles!
The First Visit
A child's first visit may come earlier than you expect. We suggest bringing your little one in at around age one, once the first baby tooth has erupted. This visit rarely involves treatment, instead we simply get to know your child and make sure teeth are erupting as they should. We may suggest a visit in the next six months, or we may suggest waiting until the child is a little older.
Six Month Visits
Once your child reaches the age of two, six-month visits for checkup and cleanings become necessary. A checkup enables your Dallas dentist to monitor smiles, making sure teeth are erupting properly, looking for signs of decay and misalignment, and helping instill good dental hygiene habits. Studies show these visits help reduce dental anxiety and make people more likely to visit the dentist as adults. During these visits, we may administer silver diamine fluoride to halt the progression of a cavity, offer fillings to treat tooth decay, or discuss preventive treatments, such as fluoride treatments and dental sealants, which helps protect little smiles from the onset of cavities.
Signs of Trouble
Should signs of an oral health concern arise between visits, we urge you to see us right away. While toothaches could occur due to changes in air pressure, or sinus and allergy issues, these aches only last long. If your child complains about an aching tooth for more than a day, then he or she may be experiencing the warning signs of a dental cavity. Treating a cavity, even if it forms in a baby tooth, helps prevent painful infections and the premature loss of a tooth. In addition, remember we can help if your child chips a tooth too! Using cosmetic bonding and other options, we can restore damaged teeth to full function, health, and appearance. If you have any questions about your child's visit, or if you're ready to schedule one, then contact our team today!
Schedule Your Child's Visit Today
We want to help children in our community enjoy optimal oral health, which is why we offer preventive and restorative care for little ones of all ages. For more information on our children's dental care treatment options, schedule a consultation by calling the Viva Dental Family Dentistry office nearest you at (214) 337-7800 (Dallas) or (972) 437-6000 (Richardson).