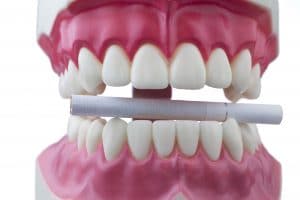 Did you know that April is Oral Cancer Awareness Month? We want to take this time to remind our Dallas, TX, patients why a yearly screening is vital for their overall health. In today's blog, we're going to talk about the screening process, and discuss warning signs you should be aware of. Remember, the earlier the disease is identified, the better the chances of a full recovery.
The Screening
The entire process only takes a few minutes to complete. We look at your gums and oral tissues for possible indicators of cancerous and precancerous areas. If we discover anything, you may need a biopsy. Having your smile screened yearly is vital, as according to the Oral Cancer Foundation, over 53,000 people are diagnosed every year. Of that number, nearly half will die as a result of the disease within just five years. The high mortality rate is attributed to the fact that people rarely have the disease identified in the early stages. An exam early in the disease's development helps improve the chances of a full recovery.
Risk Factors
If you smoke or use tobacco products, this increases the risk of oral cancer. Excessive alcohol consumption also factors into the onset of the disease. To help reduce your risk, we suggest avoiding tobacco products completely and also cutting back on your alcohol consumption. You should also reduce unprotected exposure to sunlight. We suggest wearing sunscreen to protect yourself from harmful UV rays. Of course, you also need to make sure you attend our routine checkups and cleanings, in which we perform a screening for oral cancer. Let's work together to help you enjoy optimal oral and overall health!
Additional Benefits of Checkups and Cleanings
Along with identifying oral cancer in the earliest stages, your routine checkups and cleanings offer other benefits. In addition to your screening, we also look at your teeth for signs of decay, infection, or teeth grinding. We examine your gums for signs of inflammation or gum disease. We even look at your jaw joints for the indicators of TMJ disorder. Again, catching these issues in the early stages means treatment to limit their progression and protect your smile from serious complications, which include toothaches, headaches, and in some cases, adult tooth loss. If you have any questions about our preventive visits, or about our thorough screenings, then contact our team today.
Ready for a Thorough Exam?
We want to help you enjoy healthy smiles, which starts with regular checkups and screenings. For more information on our approach to preventive and general dental care, schedule a consultation by calling the Viva Dental Family Dentistry office nearest you at (214) 337-7800 (Dallas) or (972) 437-6000 (Richardson).