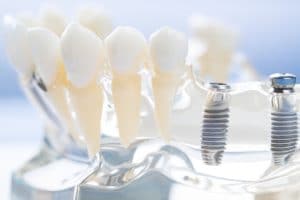 Did you know we're currently offering a special on dental implants? You can receive 50% off the cost of your implants, and enjoy a full and beautiful smile once again. But what makes dental implants such a great choice for addressing minor and severe tooth loss? Let's look at the benefits they offer people in Dallas, TX, with missing teeth.
The Benefits of Implant Dentistry
They Preserve Facial Structure: First, we actually place them directly into the jawbone, where they bond with the bone tissue through a process known as osseointegration. Your implants then act as new tooth roots. When we lose our teeth, the body stops sending nutrients to the jawbone surrounding the lost teeth. Without these nutrients, the bone tissue breaks down and dissolves, leading to further tooth loss and changes to the facial structure. Since dental implants act as new tooth roots, they stimulate the growth of jawbone structure and preserve your youthful appearance.
Long-Lasting Tooth Replacement: Bonding with the jawbone tissue means they last much longer than traditional dental prosthetics. Typically, a bridge held in place with crowns needs replacement every 10 to 15 years. A full or partial denture, which need suction or metal clasps to stay in place, will need to be replaced every 5 to 10 years. But dental implants? With proper care and attention, they could potentially last for decades.
Natural Appearance: Once osseointegration occurs, we move forward with the restoration process. At this stage, we address the visible portion of your new tooth, creating and placing a strong and lifelike dental crown. The custom-made restoration ensures your new tooth looks natural and blends with the rest of your smile seamlessly.
Durable Tooth Replacement: Our replacement teeth offer more than just a natural appearance. They're strong, and able to withstand and absorb the bite forces and pressures that natural teeth endure. As a result, you can once again eat your favorite foods and feel confident in the strength and durability of your new teeth.
Fixed Dentures: What if you've lost several teeth or all of them? Instead of relying on a removable denture, we may suggest placing multiple implants and attaching a prosthetic to them. The fixed denture is more stable and can last much longer, offering a strong and natural looking solution to advanced tooth loss.
If you have any questions about the tooth replacement process, or if you would like to learn more about our dental implant special, then please contact our team today.
Ready for a Whole and Healthy Smile?
If you have one or more missing teeth, then your smile may benefit from implant dentistry. For more information on addressing tooth loss, schedule a consultation by calling the Viva Dental Family Dentistry office nearest you at (214) 337-7800 (Dallas) or (972) 437-6000 (Richardson).